OPTIMA D51R YELLOWTOP Lighter-Weight Battery (26lbs) - E30, E36, E46
AGM battery even lighter than the D35 and works in BMW track cars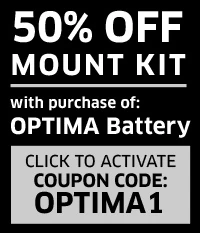 We have found this OPTIMA battery to be an excellent choice for a light weight battery for BMW track cars that have simple electronic needs and where a full racing battery has been insufficient. This battery has found its way into all of our in-house SpecE46 builds and should be used for nearly any E30 or E36 track car, Spec E30, Spec E46, and any other dedicated track car that has had wiring and electronics stripped out. It's also good for vintage BMWs with low power needs.
Important Note: this is a smaller battery with less capacity than a direct replacement BMW battery. If you have a car with all of the factory electronics this battery is not for you (even if you track the car). You will need the full-size battery for your application (typically a OPTIMA D35 or H6).
What about other light weight batteries? We have seen them all, even lawn mower batteries, and will continue to recommend the safest and best all-around battery for track use. These alternative light weight batteries are known to fail, which becomes a real safety concern when you lose your ABS on track. We wanted a lighter-weight battery where weight isn't as critical as additional capacity. The OPTIMA D35 is still our go-to for street cars or mild track builds but the D51R sheds additional pounds.
D51R YELLOWTOP features:
26 lbs (saves up to 17 lbs over typical BMW batteries)
Lighter than the typical D35 REDTOP BMW battery
Extreme deep-cycle capability and cranking power
CCA: 450 amps
Up to 3 times longer life
Reserve capacity: 66 minutes
Capacity: 38Ah
More than 15 times the vibration resistance
Spill-proof design, mountable in virtually any position
Maintenance-free
Faster recharging
Optimal starting power
Capable of 300+ discharge/recharge cycles
OPTIMA YELLOWTOP high-performance AGM (Absorbent Glass Mat) batteries hold electrolytes like a sponge, eliminating any chance of acid spilling. This spill-proof design means they can be mounted in virtually any position, and the SPIRALCELL technology allows for low internal resistance that gives you more power in a smaller (lighter) box, plus improved vibration resistance, longer life, and much faster recharging capabilities.
Thanks to the high-purity lead grid and SPIRALCELL technology, the discharge rate of OPTIMA batteries is lower than conventional units while the longevity is higher. The maintenance-free design of the heavy-duty OPTIMA YELLOWTOP deep-cycle battery will easily handle over 300 full discharge and recharge cycles, so it's got unparalleled cycling capability and premium cranking power every time you start the car.
Be sure to pick up the appropriate
BimmerWorld OPTIMA D51R Battery Mount
for quick and secure mounting of your OPTIMA battery. Note that depending on mounting location, new battery cables may be needed. The D51R is smaller overall, but taller height, so original battery cables may not reach.
Dimensions:
Width: 5.06 inches
Length: 9.31 inches
Height: 8.94 inches
BMW Fitments:3 Series
E21 (77-83) > 320i
E21 (77-83) > 320/6
E21 (77-83) > 323i
3 Series
E30 (84-91) > 318i
E30 (84-88) > 325e
E30 (84-86) > 325es
E30 (87-91) > 325i
E30 (87-91) > 325is
E30 (87-91) > 325iX
E30 (88-91) > M3
3 Series
E36 (92-99) > 318i
E36 (92-99) > 318is
E36 (95-99) > 318ti
E36 (97-99) > 323is
E36 (92-95) > 325i
E36 (92-95) > 325is
E36 (96-99) > 328i
E36 (96-99) > 328is
E36 (95-99) > M3
3 Series
E46 (99-00) > 323i
E46 (99-00) > 323ci
E46 (01-05) > 325i
E46 (01-06) > 325ci
E46 (99-00) > 328i
E46 (99-00) > 328ci
E46 (01-05) > 330i
E46 (01-06) > 330ci
E46 (01-06) > M3
Z Series
E36/8 (98-02) > M Coupe
E36/7 (98-02) > M Roadster
Z Series
E85 (06-08) > Z4 M Roadster
E86 (06-08) > Z4 M Coupe
$237.99
OPTIMA D51R YELLOWTOP Lighter-Weight Battery (26lbs) - E30, E36, E46
AGM battery even lighter than the D35 and works in BMW track cars