OPTIMA D35 YELLOWTOP Deep-Cycle Battery - 36.4 LBS
Advanced deep-cycle AGM battery, great for BMWs that sit parked long periods or have upgraded stereos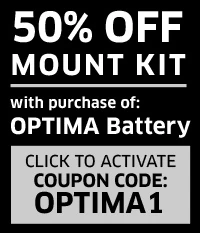 The OPTIMA D35 YELLOWTOP Deep-Cycle Battery represents the ultimate in automotive battery technology for modern, accessory-loaded BMWs and other vehicles. At 36.4 lbs, the lighter weight is one of the advantages we're drawn to, but OPTIMA Batteries offer so much more.
OPTIMA YELLOWTOP high-performance AGM (Absorbent Glass Mat) batteries hold electrolytes like a sponge, eliminating any chance of acid spilling. This spill-proof design means they can be mounted in virtually any position, and the SPIRALCELL technology allows for low internal resistance that gives you more power in a smaller (lighter) box, plus improved vibration resistance, longer life, and much faster recharging capabilities.
Thanks to the high-purity lead grid and SPIRALCELL technology, the discharge rate of OPTIMA batteries is lower than conventional units while the longevity is higher. The maintenance-free design of the heavy-duty OPTIMA YELLOWTOP deep-cycle battery will easily handle over 300 full discharge and recharge cycles, so it's got unparalleled cycling capability and premium cranking power every time you start the car, making it perfect for new BMWs that are loaded up with accessories or for those with reworked and enhanced audio/video systems.
The unbeatable starting power, light weight, superior cycling capability, and extreme resistance to the most common causes of battery failure make the OPTIMA YELLOWTOP our choice for our own BMWs and other vehicles that power a lot of electronics.
OPTIMA YELLOWTOP Benefits:
36.4 lbs (saves up to 13 lbs over typical BMW batteries)
Extreme deep-cycle capability and cranking power
CCA: 620 amps
MCA: 770 amps
Up to 3 times longer life
Reserve capacity: 100 minutes
Capacity: 48Ah
More than 15 times the vibration resistance
Spill-proof design, mountable in virtually any position
Maintenance-free
Faster recharging
Optimal starting power
Capable of 300+ discharge/recharge cycles
The OPTIMA model number for this battery is D35. If you are replacing an OPTIMA battery you already have, this model is the same as batteries marked 8040-218, 9040-218, YEL35, SC35DA, or N9935YEL.
Be sure to pick up the appropriate
BimmerWorld OPTIMA D35 Battery Mount
for quick and secure mounting of your OPTIMA battery using factory mounting points.
$249.99
OPTIMA D35 YELLOWTOP Deep-Cycle Battery - 36.4 LBS
Advanced deep-cycle AGM battery, great for BMWs that sit parked long periods or have upgraded stereos