BMW Ignition Coils
Ignition coil technology dates back to around 1918, when automobiles were first equipped with batteries and higher engine compression dictated the need for a stronger spark. A single coil would provide the spark power for the entire engine (or sometimes two coils for larger "V" engines). The canister-style ignition coil remained in regular production use right up to the 1990s.
In the early 1990s BMW switched from the canister-style ignition coil with spark plug wires to a "coil on plug" direct ignition system. This placed a coil on each individual cylinder. The spark phase is a lot more efficient and the sophisticated electronics have much more control over ignition. This was better overall for performance, fuel efficiency, emissions, and diagnostics.
| | | |
| --- | --- | --- |
| | | |
| 1918-1990 Canister-style Ignition Coil | 1991-2002 Ignition Coil Pack | 2003-2016 "Pencil" Ignition Coil |
However, placing coils inside the cylinder head seems to have its drawbacks. Misfires, hard starting, rough engine running, poor fuel economy, and loss of performance have plagued BMWs for years. In a large majority of cases, these symptoms are traced back to the ignition coils. BMW has made many changes and revisions over the years in efforts to improve quality and prevent these issues. However, it's not always a design flaw or poor manufacturing. There are a lot of outside factors that can contribute to ignition coil failure on BMWs - vibration, heat, oil contamination, electrical faults, and others.
This page is mainly about the 2003-2016 pencil-type coils because they are the most prevalent and used in many more models than the first coil pack design. BMW has been very active in redesigning the ignition coil since 2003, even going outside of their usual OEM suppliers. It appears that they will release a revised coil for a specific model, and if it's successful at reducing complaints, they will spread the applications to other models. For each revision, a new part number is generated (which is why there is a plethora of coil part numbers). Sometimes a new part is released simply because of a supplier change.
Nearly all 2003-2016 BMW models use a coil that can trace its part number lineage back to the original 2003 part number. While we make the case that the same coil can be used across multiple vehicles, we do not advise mixing coil part numbers or brands. There are minor differences among versions and mixing them may introduce new or different problems instead of fixing the original issue. Either buy a complete set of the same brand or buy individual coils that are an exact match to your existing coils.
Part #
OEM Brand
Applications
Status
1991-2002 Ignition Coils
12131703359
M50, S50US, M60
discontinued 12/1997
12131726177
M50
discontinued 1/1998
12131726178
discontinued 11/1995
12131727108
M42
discontinued 12/1997
12131729842
discontinued 10/1992
12131730765
Bremi
M42, M50, S50US, M60
discontinued 1/1996
12131748394
Bosch
M60
discontinued 7/1993
12131748395
M50, S50US
discontinued
12137599218
M42, M50, S50US, M60
discontinued 2/2011
12137731884
discontinued 3/1996
12131734468
Bosch
with connector
M42, M50, S50US, M60
active
12131748018
Bremi
M52, M52TU, M54 (01-02), M62, M62TU, S52, S62
discontinued 12/2013
12139067830
M52
discontinued 11/1995
12137599219
Bremi
without connector
M52, M52TU, M54 (01-02), M62, M62TU, S52, S62
active
2003-2016 Ignition Coils
12130148594
M54
discontinued 3/2004
12130390064
Bosch


discontinued 11/2006
12131712219
Bosch
M54, S54
discontinued 2/2014
12137523345
Bosch
discontinued 8/2004
12137548553
Bosch
discontinued 2/2009
12137551049
Bosch
discontinued 1/2008
12137551260
ERA
S54
discontinued 5/2010
12137562744
discontinued 8/2007
12137571643
Bosch
S54
discontinued 5/2009
12137841558
ERA
S54
discontinued 5/2010
12137594936
Bosch
early N52
active
12137594937
Bosch
S54
discontinued 2/2015
12137594938
Bosch
M54, S54
discontinued 10/2013
12137594596
Delphi
N20, N55
active
12138616153
Delphi
M54, N20, N26, N51, N52, N54, N55, N62B48, S54, S55
active
12138647689
Bosch
N62B48, N63TU, S54, S63TU
active
12138657273
Eldor
N54, N62B44, N63, N73, N74, S54, S63
active
12137835108
Bremi
S85
discontinued
12137841556
Bremi
S85
active
12137838388
Bosch
S65
discontinued 9/2009
12137841754
Bosch
S65
active
If you weave your way through the web long enough you will find that the vehicle applications for each part number relate to each other. Even though some part numbers are for specific models, you can trace its lineage back to the original. Therefore, all BMW ignition coil applications from 2003-2016 are comparable or even interchangeable. The exceptions are the S65 V8 in the E9X M3 and S85 V10 engines in the E6X M5/M6. Coil manufacturers have made minor changes with each new part number so we would strongly advise not to mix different brands and part numbers.
You may see multiple part numbers and brands listed on our site for your BMW model. Old part numbers may be displayed because if we only used the newest BMW part number, anyone using an old number would never find what they're looking for. Even if an old part number is listed, there are no old coils sitting on shelves. Any coil that we sell, regardless of part number, is going to be the newest version from that manufacturer. It's a rare case that we recommend the Genuine BMW part over an OEM version of the same part. But in this case buying the Genuine BMW brand ensures that you get the very latest attempt at eliminating misfires and running issues. Our only strong advice is to use the same coil part number and brand on all cylinders.
---
Install Tip: Snap or Pop Sound Upon Installation
This graphic was put out by Bosch in response to inquiries from technicians that newer coils no longer have a snap or pop sound when the coil is pushed onto the spark plug. Bosch says the redesign now uses a spring inside that makes better contact with the spark plug and the snap sound is no longer present.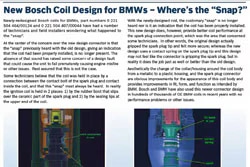 Click for larger.
---
BMW Ignition Components - Coils, Spark Plugs, Wire Sets and Other Maintenance
---
BMW and OEM Ignition Coils: