CCB to Iron Brake Conversion

CCB to iron brake conversion is replacing your original carbon-ceramic discs and carbon pads with old-fashioned iron discs and carbon-metallic pads.
Why Swap to Iron Brakes?
Our biggest reason for moving to cast iron is cost. Replacement carbon-ceramic discs for your F8X M3/M4 cost over $4,000
each
(as of April, 2021). And they may not hold up as well as iron when used on track (see below). For every pair of CCB rotors you can buy one pair of assembled 2-piece iron rotors plus 9 pairs of replacement rotor rings!
Don't Carbon Ceramic Brakes Last Longer?
Yes but only when used for normal street use. As soon as you hit the track CCB rotor wear will increase substantially due to heat. And if you upgrade to a higher friction pad material for better performance (more heat) it will greatly increase wear. Normal driving does not induce the heat through the rotor that track driving does and heat is the great enemy of these carbon discs. It's very common for Porsche and Corvette owners to swap to iron discs for any track use and all indications are that the BMW CCB are no different. Based on our testing we would expect BMW CCB brakes to last 25-30 days with OE pads and 12-15 days* with true racing ceramic pads.
* note - brake wear is determined by a very broad set of conditions but primarily tire grip and heat management. Slippery OE street tires will have less brake wear due to less brake pressure (the tires give up grip before using all of your brakes). Any pad with higher friction will also increase heat and further break down carbon discs. Heavier cars and highly-tuned cars will also generate more heat in the brakes leading to quicker break down of carbon discs.
Will I Lose Performance?
The myth of OE carbon-ceramic brakes is that they perform better. But OE carbon discs are not the same material or technology as the carbon brakes used at LeMans or F1. OE carbon-ceramic discs are all about the cool factor, lighter weight, and longer life. We did not see any loss in braking performance in our back-to-back testing of carbon-ceramic vs iron. We used our F82 M4 project car as a test bed and equipped it with a Motec data analyzer to record brake system pressure, system pressure with ABS, vehicle speed, longitudinal G force, and more. We tested OE carbon pads and Pagid carbon pads on the CCB rotors. Then swapped to Giro Disc iron rotors and Pagid race pads. Braking performance, measured by G force and brake pressure, was virtually the same with the iron brakes.

What Is Needed to Swap?
In a F8X CCB conversion we keep the original CCB calipers and only swap the rotors and pads. The calipers are not specific to the CCB brakes - they are actually the same as the M2 Competition and very similar to the F10 M5. But they get the gold anodize for CCB use. Every other part of the caliper is the same between CCB and iron - caliper seals, brake master cylinder, brake booster, lines, etc.
We use the rotors from the M2 Competition - 400x38mm in front and 380x28mm in back. As a track upgrade we like the Giro Disc 2-piece rotors because they are lighter than OEM iron rotors, have a better vane structure and premium metallic content, and the iron friction rings can be replaced separately. You can also use factory OEM M2 Competition rotors. Note: because the rotor size stays the same you must still run 19" front wheels. If you want to run 18" wheels you must switch to a smaller rotor, like
our Alcon 380 kit (click here)
.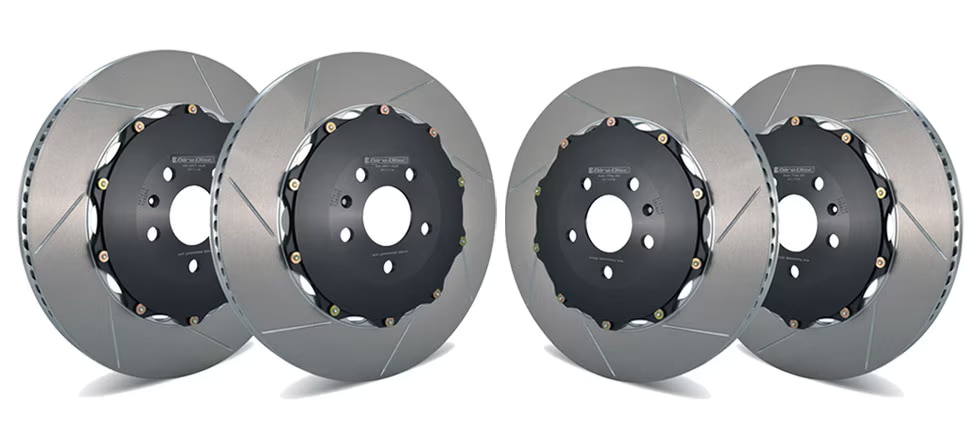 For pads, any set for the M2 Competition will also work. For the street you can run OEM, StopTech, Textar, or any other M2C pad. For the track we have chosen Pagid RSL29 or RST29 pads. We used these pads and worked closely with Pagid on this project. The RSL pads work great with street or 200TW tires and the RST can be used with a grippier sub-200 tire. You will need pads for the front and rear axles.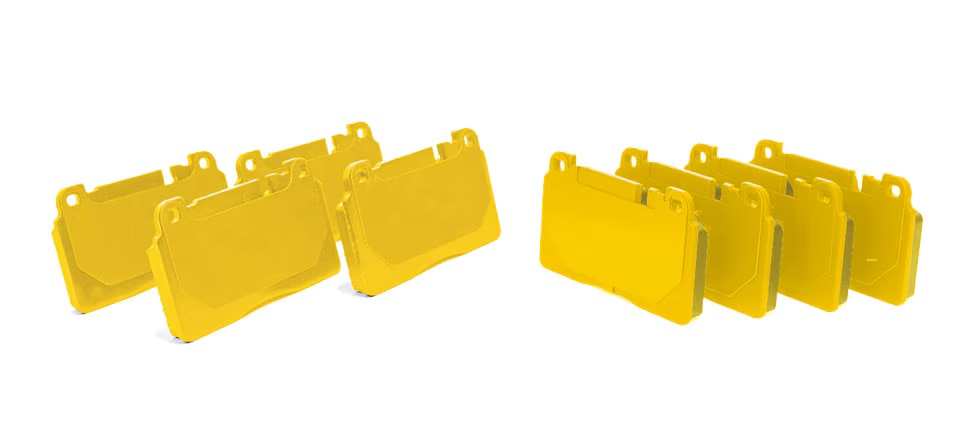 Conclusion
We can't think of any reason to keep the CCB on an F8X M3/M4. For track use the economics just don't work. But even for street use the numbers are hard to quantify if you plan to put 100,000+ miles on your carbon brakes. At that point you're looking at a potential $16,000 repair bill! On a car that might be worth $30k.
You can switch back to factory CCB at any time. The iron conversion is a 1:1 swap of the original parts so there is no modification needed. Changing back to CCB is the same as any other brake job. Just make sure to safely handle and store your CCB rotors to avoid damage!
There is no denying the cool factor of CCB, they last a long time, and they are cutting edge technology. But we cannot get on board until prices become more affordable.
M3/M4 CCB-to-Iron Conversion Parts:
---