E92 M3 Pikes Peak Hill Climb Car
Last Update: 01-19-2018
On the last weekend in June, 2017 we will be competing in our first ever hill climb event - the 95th Pikes Peak International Hill Climb in Colorado. A hill climb is just like a rally stage - a one-way race along a course with the winner being the driver with the fastest time. But Pikes Peak is no normal "hill". This course is 12.42 miles, 156 turns, on a paved asphalt surface, a starting line at 9,100 feet above sea level, and an elevation change of 4,720 feet (four
thousand
seven hundred and twenty feet)...
Our car for this endeavor is
last year's E92 M3 Street/Track car project
. That car started out as a typical used E92 M3 bought at auction. It was a little rough around the edges but underneath the scars of lease life there was tangible vitality. We bought the car to demonstrate what could be done with a modest budget to turn any E9X M3 into a formidable track car with some concessions for street use. On paper we sketched out a build that would be capable of lapping at the front of a typical race group and still be somewhat streetable at an all-in price of under $45k, including the donor car. With planning and a parts list already underway, we needed to shift course and build a hill climb car. Most of our new planning was to account for the extremes of the Pikes Peak event - the side effects of 14,000 foot elevation and the massive drops without guardrails. Many of the parts we used were carried over from the original build plan but several required additional upgrading or taken a step further. We needed to go beyond the usual track day prep to improve safety, cooling, and other areas. We began calling our project Weekend Warrior, Phase II (which then became P2 and finally P
2
, coincidentally the initials for Pikes Peak).
Here is our build:
---
Suspension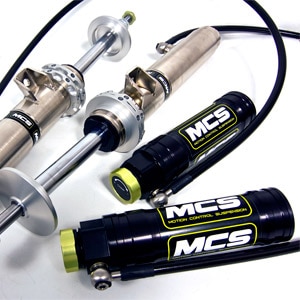 Thankfully, the Pikes Peak course is well-maintained tarmac all the way up. However, the surface is uneven with a lot of crowns, undulations, and waviness to the surface, not unlike the typical US freeway. To maximize compliance and performance, we went for
3-Way MCS Coil Overs
in place of the 2-Way dampers that were on the original build sheet. The additional third adjustment is for low speed compression, which isolates the lower speed suspension travel (platform pitch and roll) so we can support the car properly and specifically dial in the high-speed suspension movements on a bumpy surface. The coil overs would complement the rest of our proven suspension package - Eibach racing springs,
Hotchkis sway bars
,
Ground Control Race camber plates
, and
BimmerWorld solid mounts
,
control arms
, and
monoball bearings
. From our initial build, the suspension was going to get top billing. It's always the place to start when building a BMW track car, and especially when following a budget conscious approach (even when the budget climbs). No other modifications will get you as much bang for the buck. This total package is our proven formula for road racing and should put us in a good spot for the hill climb with only minor adjustments after a few runs.
---
Brakes
Brakes are critical on any vehicle but get extra attention on track-focused cars. At Pikes Peak they get double-extra importance. Not only because you're barreling towards a drop-off at any one of the course's 150+ turns, but because speed management is constant and frequent. On any car we look for a braking system that will be predictable, won't fade, and with a pad compound that has excellent initial bite and will also shed speed quickly. And we build a braking system around that - a quality racing pad, stainless brake lines, a cooling system, and possibly some lighter two-piece rotors. This is not only a capable track formula, but also one that wins races.
However in our P
2
build, we redefined optimal and went with a brake system comprised of
Performance Friction 4-piston Z54/Z45 calipers and the latest V3 slotted discs
. Lighter and stiffer than the factory parts (over 18 pounds in total), these are some of the lightest racing brakes on the market and will stop consistently at every turn, and inspire driver confidence (and looking over a cliff at 14,000 feet, BimmerWorld owner and Mountain Dummy James Clay upped the budget to provide as much of that as possible).
---
Engine and Driveline
We adhered to our original Weekend Warrior build here more than other areas of the car, primarily to include the tried and true power adders. Mother Nature saps power at these elevations and many other cars are built with superchargers or upgraded turbos. These add weight and heat - two byproducts that we already expected to challenge us (see below). Built engines, engine swaps, or more exotic options are quite frankly out of the scope of even the expanded budget. Just like many of our customers, we are pinching pennies and using them where they count most!
We stuck to the standard formula for making power – more intake flow, less exhaust restriction, adapt software calibration and reduce parasitic losses. The
Macht Schnell intake
on this S65 is not only a great budget fit, but it makes big power also. On the exhaust side, we developed a
racing center section
with Magnaflow (which is
now in-catalog
) and added our
Magnaflow-built Race Exhaust
for maximum flow (and an amazing V8 exhaust note!)
Epic race software
pulls it all together with a custom calibration for 110 octane to reduce heat – a critical goal for the thin air.
The driveline was no exception when it came to shedding weight and reducing parasitic losses. We had Tilton produce a twin-disc Cerametallic clutch to pair with a JB Racing Ultralight flywheel for a streetable package that makes shifts fast – and drops 25 total pounds! A custom limited slip unit replaces the factory M-Variable option (details forthcoming after further testing – we do that part so you don't have to). Typical S65 maintenance was also carried out - new
treated rod bearings
,
spark plugs
,
ignition coils
, and fresh Red Line fluids throughout.
---
Cooling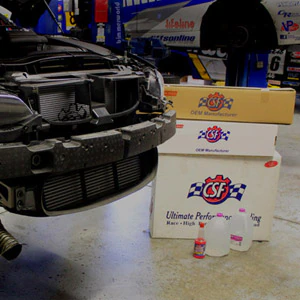 The starting line at Pikes Peak is 9,400 feet above sea level. At that elevation the ambient air is significantly less dense and struggles to soak up the heat from the cooling vanes of the radiator and oil coolers. Heat soak is a typical problem and overheating is expected if the system is not given serious consideration. Factor in the greater demand on the engine with heavy throttle on a steep grade and the cooling system is going to have a workout. We were afraid that adding larger coolers would add even more weight to the car but that hasn't been the case with the
CSF radiator
,
oil cooler
,
transmission cooler
, and
power steering coolers
we chose. Even with more surface area and all-aluminum construction, these coolers are within a few pounds to the stock pieces. With the cooling performance improved substantially that's a trade-off we're happy to accept.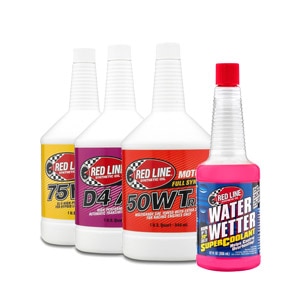 Fluids are the other critical component in any automotive cooling system to both reduce the heat generated (or sometimes retained) and to deal with the extreme temperatures more effectively.
Red Line Water Wetter
replaces our antifreeze in our coolant system to provide lubricity for the water pump, anti-corrosion on the metal bits, and increased heat transfer to lower temperatures.
Red Line 50WT Race Oil
is a tick lighter than the 10W60 factory fill which retains less heat and the Group V PAO ester base stocks are a grade or two above the alternatives, giving us better sheer strength and bearing protection. Red Line
D4ATF
and
75W140
fill the transmission and differential, respectively.
---
Wheels and Tires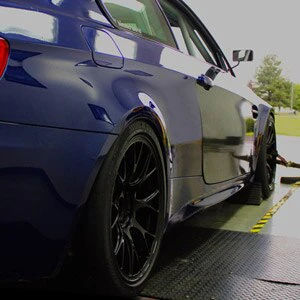 Whether we need the long term durability for a dual-purpose car or to prevent a critical failure on the mountain, our
fully forged TE:AL 18x10" race wheels
were the obvious choice. Forged from T6061 aluminum with design features to minimize weight without impacting strength, our wheels are the first answer to almost any wheel question. These wheels feature motorsport technology and design elements at an easily approachable price point. They are stronger and more durable than cast and "flow-formed" wheels and have generous brake clearance. The 18x10" ET25 wheels fit within the bodywork without the need for spacers or body modifications.
For rubber, we have chosen the Hoosier A7 road racing tire in a 275/35-18 size on both axles. These tires quickly reach operating temperature (remember, no warm-up runs and it's a standing start) and will provide consistent grip throughout the entire 10+ minute run. If it happens to rain or snow (which it likely will), we will be prepared with Hoosier rain tires as well.
---
Safety
A primary difference in the shift to P
2
planning was in the scope of the required safety items. Safety is always the first priority but the added dangers of Pikes Peak force a more dedicated plan than the original.
Roll Cage.
In a dual-purpose track/street car we would limit the scope of this to a roll bar - a "back half" structure consisting of a hoop for rollover protection, back stays to keep it upright, and a harness bar to go along with your 4 or 5-point racing harnesses. For the P
2
build we extended this to include the front half of this structure and specifically with additional rollover protection since, at Pikes Peak, leaving the road can mean tumbling a few hundred feet down the mountainside.
Harnesses and Nets.
Building a Street / Track car?
Schroth 4-point harnesses
are designed to work without a rollbar to keep you from slipping around (and give additional crash protection). For track-focused cars with racing seats, a typical
6-point
with
racing seats
is desired. Our Pikes Peak car goes a step further with a Schroth 7-point harness system. The 7th point carries the negative vertical load on rollover. Additionally, Schroth left and
right side nets
are added to keep the driver in the seat, and a
window net
to keep objects in their rightful place either inside or outside the car.
Fire System.
Our Hill Climb car has a premium
Lifeline Novec 1230 fire system
because if it happens to go off track and catch fire, the chances of worker assistance are slim. A fire system was always on the budget build because we have seen a trend forming of such systems used on dual-purpose cars (not just race cars). This is a movement that we fully support and all future BimmerWorld track cars will have an integrated fire system. You have to ask yourself - what makes a dedicated track car any less likely to catch fire than a race car? Just because there's no rule book when building a dual-purpose car doesn't mean this vital safety feature should be skipped. Why should you or your passengers be any less protected? It shouldn't be from lack of understanding of fire systems in general or difficulty in installing a system that prevents you from including one. Educating our customers is the first step for a safer hobby. This ounce of protection goes a long way toward peace of mind.
---
Weight Reduction and Aero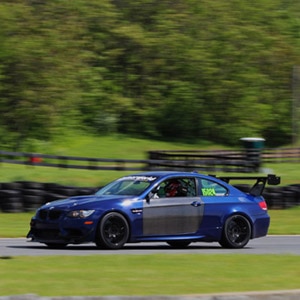 To make the car go faster, add lightness. Without question, one of the cheapest ways to make a car faster is by reducing weight. If you're not following a rulebook, the extent of weight reduction is nearly endless. There are many obvious ways of trimming the fat: removing the interior, stripping unnecessary trim and wiring, install lighter components, and more. We were already on our way when planning for P
2
took over but the same path applies to your own dual-purpose car, only limited by what you can tolerate. Improving the performance:weight ratio has already been done on the exhaust, wheels, suspension, brakes, and cooling system. But P
2
demanded more.
In the spirit of escalation [or was that elevation?], we also substituted several carbon fiber pieces for their stock counterparts. Modifying the factory panels for lightness requires many man hours of prep and fabrication work. And the end result is still not as light or rigid as these carbon pieces. Since deleting the sunroof is de rigueur anyway, we filled in the void with one of our
carbon sunroof delete panels
. The
doors
and
trunklid
were also exchanged for carbon fiber. We're especially proud of these pieces as they are direct bolt-on with minimal prep required. To the doors we added
Lifeline GT mirrors
instead of reinstalling the swollen factory pieces. To top if off we exchanged the bulky factory dashboard for
one made from carbon fiber
. It has all of the same shapes and design cues as the factory piece but at a fraction of the weight. All of the instrument and control surfaces are flat which makes it easy to lay out your gauges and switchgear. Total weight savings from the carbon fiber bits was over 100lbs!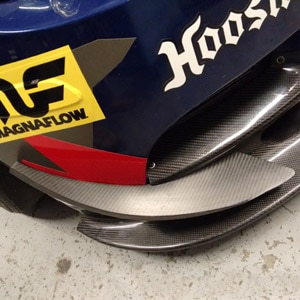 We wanted P
2
to retain a factory appearance but generating downforce is essential to going faster on the hill, more so in the thin air. We have a lot of practical knowledge and experience in gaining more downforce on our BMWs and we'll be putting that to the test on the mountain. We added our
carbon front splitter
,
carbon dive planes
(a higher downforce version spawned by this project), and our
carbon Ultralight GT rear wing
. Because the air is so thin it's typical to see super-large wings or foils on Pikes Peak cars to get as much surface area as they can. While we aren't going that far out of the box to build a mountain specialist, we will maximize our downforce using the typical road racing components also available to our customers. These aero pieces were not originally in the track car build and are not absolutely necessary to make the E92 M3 into an effective and fun track car. They also limit street use. But they are absolutely essential when competing against the clock, whether in a hill climb or in the road racing/time trial environment.
---
Shakedown / First Test: Summit Point
With the initial build complete we took it to an open track day at Summit Point Raceway in West Virginia for a shakedown run. There were no hiccups and the car ran beautifully the whole time. The additional weight reduction made the car faster with better handling and faster response. We can expect tight corners on the Pikes Peak course and Summit Point is a good place to get a feel for that setup with a mix of slow, tight corners and short straights.
---
Pikes Peak Livery Unveiled
Our Pikes Peak challenger has benefited from the assistance and input of these BimmerWorld technical partners: OPTIMA Batteries, MCS Suspension, Performance Friction, Eibach Springs, MagnaFlow Exhaust, Red Line Oil, CSF Cooling Systems, Epic Motorsports, Hoosier Tire, Lifeline, Schroth, HMS Motorsport, and Rogue Engineering.
---
Pikes Peak Race Week

Pikes Peak Race Week is underway! James Clay and the BimmerWorld E92 M3 have been practicing all week on different sections of the mountain, improving with every run. In James' own words, "The car is 100% solid and sounds 110% awesome." Hear for yourself with this Instagram video:

Photos from Race Week (click for larger):
We will be posting more photos and videos all week on Instagram and Facebook. Here is a list of helpful links so you can follow the action -
BimmerWorld Instagram
BimmerWorld Facebook
Pikes Peak Official Web Page
Pikes Peak Live Timing Results (Class: Time Attack 1)
---
Pikes Peak Wrap Up Report
Our OPTIMA Batteries M3 ran flawlessly the whole week. Not a single hiccup. This was proof positive that the best combination of parts, expertise, prep, and people will deliver solid results. This car did not start out as a dedicated Pikes Peak contender. We wanted to stay true to the original concept of a dual-purpose car so that our customers could relate with our goals and turn to our car as inspiration for their own track-worthy E92 M3.
We had a car that handled beautifully and stopped consistently, both of which were needed to give James Clay more confidence to go faster. We were down on power compared to some other cars in the Time Attack 1 class, but we knew that going in. We ran a naturally-aspirated engine, which meant our S65 V8 lost around 35% of its power at the summit (and was already down 15% at the start line). But the package that we built meant we were very reliable and didn't suffer the cooling issues that concerned us the most. And we learned a lot so when we come back in the future we'll have a much better understanding of how to conquer the mountain.
---
Mountaintop Proving Grounds for OPTIMA Batteries
A single OPTIMA YELLOWTOP battery endured the Ultimate Torture Test in 2017. The same battery was used in the world's top motorsport and powersport events to showcase the technology and toughness of OPTIMA AGM batteries. BimmerWorld participated by using it at the 24 Hours of the Nurburgring in a M235iR and at Pikes Peak in our E92 M3.
Related Videos:
OPTIMA Batteries Ultimate Torture Test at the Nurburgring (BMW M235iR)
More OPTIMA Batteries Ultimate Torture Test videos
OPTIMA Batteries Ultimate Torture Test main page
---
Bonus Read - "A Rookie's Tale"
The personal account by James Clay, as featured in the January 2018 edition of Roundel Magazine

Read the unedited story here.
---
Product Highlights in our E92 M3 Pikes Peak Build: