E9X M3 (6-speed Manual) Diffsonline Custom Performance Differential
Increase the torque and traction delivered to the ground for faster acceleration and reduced lap times!
A great upgrade - and common maintenance item - for drivers looking for added acceleration and grip for their E9X M3 6-speed!
The S65 V8 in the E9X M3 lacks torque in the lower RPM range. Using a shorter gear ratio puts you at a higher RPM for any gear, and much closer to the meaty part of the power band and the higher rev limit. Our rebuilt differentials also address shortcomings and common complaints with the factory M Variable limited-slip. Diffsonline has 20 years of expertise in BMW differential upgrades and rebuilding and we make it easy to replace and upgrade your diff.
When planning a diff upgrade in your M3 there are multiple factors to consider: tuning upgrades, limited slip type, and gearing choice.
---
E9X M3 Limited Slip Options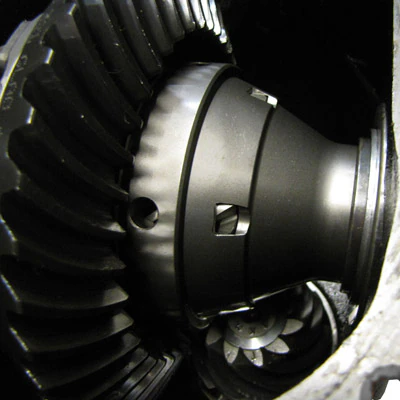 M Variable:
the M Variable is a viscous-style limited-slip that pumps fluid through channels to induce lock-up, as much as 100%. It works really well on the street and when varying surface conditions call for different amounts of lock. But beyond the street is where drivers experience its shortcomings. The lock-up is delayed as a wheel spins while the fluid moves through the viscous unit. And the slack and tolerances become too large which creates clunking noises and further affects performance. An M-Variable diff typically needs replacement after 60-80,000 miles. For purists, we can rebuild the M Variable unit but we have better clutch-type options for the track or quieter/more reliable use on the street.
Clutch
-type differentials are similar but have a traditional set of clutch discs (2, 3, or 4). The lock-up is set (typically 40%) but the ramp engagement can be tuned to behave like you want. Clutch diffs are simple, quiet, reliable, and easy on the wallet. They are great for street cars that see numerous track days a year. Clutch differentials also deliver consistent handling and engagement whereas the M Variable can feel unpredictable from one corner to the next. Our favorite setup for a heavily tracked M3 is a 3-clutch with custom ramp angles. The ramp angle in the limited slip unit is machined for an engagement that is more substantial and track-oriented. This setup offers excellent turn-in and the ability to lay down some serious power earlier during track-out. This setup has proved to greatly reduce track times and, as a result, has created some very happy customers! An OS Giken is also available as a multiplate design that is recommended only for track use and no warranty is provided.
Several
helical
non-clutch type LSDs are also available. Wavetrac and Quaife both make a helical-style LSD that are more expensive but offer advantages in wear resistance and performance. Helical diffs use multiple sets of gears instead of clutch discs and plates. They are always engaged and have quicker and smoother response and are less affected by heat than a conventional clutch. There are a few downsides to helical diffs: if one wheel becomes airborne (hopping a curb on track or lifting the inside wheel during cornering) the lockup goes away. There is also additional upfront cost and some slightly higher gear whine than a traditional clutch LSD.
Definitely contact us by phone or email to discuss the best E90/E92 M3 diff upgrade that will meet your needs.
---
Gear Ratio
Multiple gear options are available to meet your acceleration needs. The M3 with 6-speed manual was offered with a stock 3.85 gear set. This is quite short but suits the V8's torque and high red line well. For more performance we jump right to 4.10 gears. For supercharged cars we go to a taller gear set to make the car more drivable on the street - 3.45 or even taller. The gear ratio you choose is based largely on personal preference and how you plan to use the car. Keep in mind that shorter gearing requires more frequent shifting. Refer to the charts below for speed and RPM data.
---
REM Polishing
REM treatment is a multi-step light surface polish of the gears and/or bearings that removes small imperfections and high spots on the surface. BMW does some final detailing on their ring & pinion sets that removes most of these imperfections but there is still room for improvement. High spots create heat risers which raise the surface temp of the surrounding metal and leads to imperfections and wear. REM polishing reduces internal temps and friction, improving performance and efficiency. It also makes the ring & pinion quieter with smoother engagement. REM polishing is done on a as-ordered basis and may result in additional build time. REM is a registered trademark of REM Chemicals, Inc.
---
Core Charge
We're able to offer rebuilt and performance differentials at a reasonable cost due to the use of cores. A "core" is your original used differential that is returned to our diff builder to be recycled into a new, fully-rebuilt diff. If we did not have cores available, and had to buy new factory differentials from BMW, our performance diffs would be four times the price they are now. To keep this upgrade feasible for the entire enthusiast community we rely on having your good, reusable core returned to the diff builder (Diffsonline) within fourteen days of receipt of your new diff. In order to cover the cost of sourcing another used diff, a core charge is applied to your order at the time of processing. This core charge can be refunded when you send back your original
limited-slip
diff. Only complete and reusable cores will be eligible for a refund (no blown out, abused, or modified cores please). You must return a diff equal in components and accessories to the one sent to you. Non-limited slip (open) differentials returned for cores will not receive a full refund.
The core charge on a E9X M3 diff is
$1,500
, which is not included in the price and will be
charged separately
at the time of processing. You can also avoid the core charge altogether by sending in your original diff to be rebuilt. Note that this will mean downtime for your vehicle, so we recommended using the core service.
---
Rebuild Process
While we take in used diffs as cores, what you get is a fully rebuilt and properly set up unit that is often better than what BMW can provide. There is a lot of specialty knowledge required in the diff building industry and Diffsonline has over 20 years of experience in BMW differentials. Nearly all of the major retailers of performance differentials use Diffsonline, even when sold under other brand names.
Rebuilding a diff is a very involved process -
The used diff is disassembled and cleaned
The outside case (carrier) is stripped of grease, grime, and rust
The desired limited slip unit is prepped
The specified gear set is assembled with the LSD
Any machining of the carrier is done in-house
New OEM bearings are fitted
New OEM seals are fitted
The entire internal assembly is aligned (crucial in avoiding gear whine later on)
Final assembly and checks
Carrier is given a fresh coat of black paint
Shipment to your door in special heavy-duty packaging
The packaging can be reused to send back your core. Diffs are shipped without covers and with no fluid inside. Diffsonline recommends Red Line 75/110 fluid for all of their differentials, except M Variable (Castrol SAF-XJ) and OS Giken (OS 80W250).
BimmerWorld offers FREE GROUND SHIPPING on all diffs.
Upgrading the differential in your BMW is one of the best ways to improve handling, acceleration, and all-around performance. Whether you're looking to alter the final drive gear ratio, or add limited-slip functionality to get all that power to the ground in the turns, we've got the knowledge to guide you in the right direction. Should you have any questions on BMW diff upgrades or the process, please call or email one of our knowledgeable sales reps.
BMW Fitments: 3 Series
E90 / E91 / E92 / E93 (06-13) > M3
$1,449.00
E9X M3 (6-speed Manual) Diffsonline Custom Performance Differential
Increase the torque and traction delivered to the ground for faster acceleration and reduced lap times!