E9X M3 Power Kit - Stage V
Power up with an intake, header, full exhaust, and ECU flash
Our Stage V package for the 2008-2013 E90/E92 M3 keeps the S65 V8 naturally-aspirated but bundles are proven performance products with a Epic Motorsports tune. We want to get the most out of the S65 and this package delivers without jumping into forced induction. A more capable and higher flowing intake and a less restrictive exhaust system is tied together with Epic software tuning to extract the most power from the M3 V8. Even if you're planning to run forced induction in the future, the headers and exhaust still apply.
---
Macht Schnell E9X M3 Intake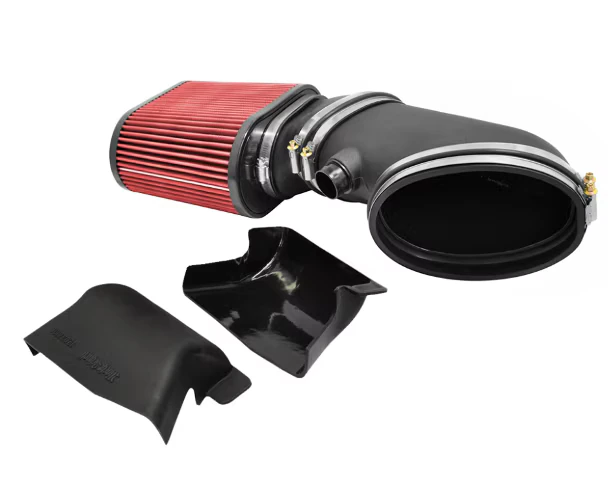 Macht Schnell E9X M3 Stage 2 Intake Charge Kit. It's our favorite choice for E9X M3 cars because it's designed for power! By replacing the restrictive stock filter with a larger, more free-flowing performance filter, the engine is able to breathe more air - and that means more power. The disruptive accordion-style stock intake elbow that connects the air box to the intake manifold is also replaced. This Macht Schnell replacement Intake Charge Pipe (ICP) has very smooth and glossy interior walls, and it's also 18% larger by volume, so you get considerably more air while eliminating the turbulence and resistance that the stock elbow produces. The ICP is constructed from super-strong polyethylene and has a textured exterior that perfectly matches the texture of the OEM intake manifold for a stock look. Macht Schnell's own Intake Charge Scoops are part of this cost-effective kit, and they help to create a matched combination that provides maximum air delivery to your S65 engine for noticeable power gains.
---
BimmerWorld E9X M3 Headers
Unlike older car models, BMW equipped the E9X M3 cars with good headers from the factory. It took absolutely every racing trick up our sleeves to gain power, but our new BimmerWorld Longtube headers produce proven results and are guaranteed to surpass expectations. Beyond putting out big power from stock engines (and even more from stroker and supercharged applications), our true equal-length headers change the shape of the exhaust sound, eliminating some of the muddiness of mismatched exhaust pulses for an intoxicating, crisp, and harmonious note.
Features:
Tri-Y Design - Cylinders are paired properly to assist in exhaust scavenging to maximize low-end torque and the area under the curve with no loss in high-end horsepower.
Stepped Primary Tubes - Primaries step from 1-5/8" to 1-3/4". The smaller diameter boosts low-end torque while the step to the larger diameter in the primary frees the exhaust gasses for higher RPM flow.
Merge Collector - 2" secondary pipes flow into a merge collector with a 2.5" venturi and 3" tailring to promote scavenging.
Precision Production Fixture - Production fixtures are laser cut and exceedingly robust, with contact points every few inches to ensure the part you receive fits perfectly as designed.
Laser-Cut Flanges - Flanges are precision cut from thick 3/8" 304 stainless stock to retain shape, with voids for weight reduction.
Mandrel-Bent Tubing - One-piece tubes are solid-formed instead of pieced together for smoother exhaust gas flow and long-term durability.
Band-clamp attachment maximizes underbody clearance and makes exhaust removal and installation quick and easy.
Full 304 Stainless Steel construction for heat retention, durability, and corrosion resistance.
Full lifetime warranty against defects in materials and craftsmanship.
Fits all left-hand drive E9X M3 cars - does not fit RHD models.
Made in USA
---
BimmerWorld E9X M3 Center X-Pipe
Our BimmerWorld E9X M3 X-Pipe is designed to perfectly complement our Longtube Tri-Y Headers - this piece does not bolt onto stock headers. We've duplicated the architecture and design that we developed on our E92 M3 race car to maximize both flow and scavenging effect. The X crossover component is the same as the piece we race with, positioned for optimized power output and tucked tight to the chassis to maximize ground clearance. The 3" inlet and main pipes keep the hottest exhaust gasses flowing while the step to 2.5" toward the back retains velocity as the exhaust cools.
The GREEN cats used in our catted X-Pipe option are a true premium-quality 300-cell catalytic converter made in North America, meeting EPA federal emissions standards. In back-to-back dyno testing, our catted X-Pipe lost only 7 Hp versus the straight pipe - a fantastic result considering that removing stock catalytic converters on this car typically gains close to 25 Hp. This system, complete with Catted X-Pipe and Longtube Tri-Y Headers, makes more power than any header-back system we've tested - full race, catless, and resonator-free systems included!
---
Magnaflow E9X M3 Cat-Back Exhaust
Our package includes a MagnaFlow cat-back exhaust that produces a subtle throaty sound that enhances the V8 exhaust note without getting in the way. It's a fully stainless performance exhaust with dyno-developed power gains and an engineered system that minimizes drone. We wanted you to have all of the power but without the drama.
MagnaFlow M3 Exhaust Features:
3.5" polished double-wall tips
dyno-developed
superior fit and finish
power but civilized sound
weight savings over stock
lifetime warranty
Made in the USA
Default system is E92 M3 coupe. E90 sedan systems also available.
---
Epic Motorsports Software Tune
The software in our package consists of Epic's custom ECU tuning. Epic tunes are able to provide more usable horsepower and torque outputs by modifying BMW's dual variable cam timing (VANOS), drive by wire tables, and fuel and ignition maps. This software has been specifically calibrated for the modifications in our Stage V kit so you can get the most from your upgrades. Epic tuning also improves part-throttle drivability and smoothness. The vehicle's top speed governor is removed. Other custom tuning is also available. Rear O2 sensors monitoring, as well as other emission related items, can be disabled upon request for race cars and/or off-road use only vehicles. This tune includes the Engine Calibration Interface (ECI) with purchase.
Have questions or seek additional information?
We're here to help!
Reach out to one of our knowledgeable and helpful sales reps! We can be reached via phone, live chat, or e-mail to assist in any inquiries you might have.
Installation is also available in our Virginia facility.
BMW Fitments:3 Series
E90 M3 Sedan (4 door) - 2008, 2009, 2010, 2011, 2012
E92 M3 Coupe (2 door) - 2008, 2009, 2010, 2011, 2012, 2013
E93 M3 Convertible - 2008, 2009, 2010, 2011, 2012, 2013
$6,747.57
E9X M3 Power Kit - Stage V
Power up with an intake, header, full exhaust, and ECU flash