Top E90/E92 M3 Mods
Top E90/E92 M3 Mods
The S65-powered E90/E92 M3 was the last of the naturally aspirated M3s we'll ever see, but we can all be happy that BMW decided to go out on a high note before moving to turbocharged engines across the full model lineup. Not just a "high note" but a gloriously tech-heavy, 8,400-RPM, free-revving, 4.0L V8 high note with plenty of performance potential.
At around 3,700 lbs, the E90/E92 M3 is no lightweight, but the chassis, suspension, and engine all combine to make it a very potent and highly desirable package. Of course, that doesn't mean we can't make it even better… While the S65 engine is a technological work of art, it's fairly quiet from the factory. But despite its muted-from-the-factory demeanor, the BMW M3's V8 offers what is possibly the best potential soundtrack of any mass-produced M car to date, though arguments could be made for the S85 V10 and S62 V8 engines. Plus, as great as the E90/E92 M3 is without any modifications, there's a surprising bit of power waiting to be unleashed.
Around town and on the highway, the weight of the E9X M3 actually makes it a very competent GT cruiser, yet it can still be flung about on a race track pretty well for a car with so much heft. While previous-generation M3s were noticeably lighter, the E9X M3 can hold it's own through a tight track - when dialed in properly.
For many BMW fanatics, the 2008-2013 M3 is the perfect blend of looks, power, technology, comfort, and overall performance capabilities. We've got plenty of experience in making the E9X M3 go faster, look better, handle more precisely, and sound better than just about anything else on the road. Below are the top-5 areas of modification our friends and customers have utilized to make their favorite BMW M3 even better.
Wheels & Wheel Spacers
A new set of wheels gives you the quickest change of looks for your E90/E92 M3, but wheel choice can go well beyond simple aesthetics. The BMW factory wheels look decent, but we all like to set our cars apart a bit, and ranging from 25 lbs to 30 lbs, the OEM 18" and 19" non-ZCP wheels aren't exactly light. Plus, all E9X M3s were equipped by BMW with staggered wheels, so the narrow 8" front wheel widths with 9" or 9.5" rear widths serve up varying degrees of handling quirks (understeer!) that most of us aren't particularly fond of and do everything we can to avoid.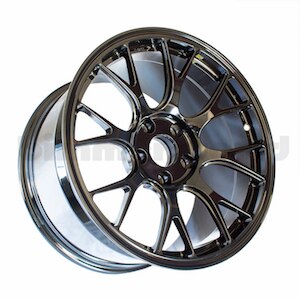 A top seller immediately after their introduction, a "square" set of
BimmerWorld TE:AL TA16 Forged Race Wheels
can solve all those issues in one shot. For those unfamiliar, "square" simply means equal sizes front and rear, so you get better handling and the ability to rotate tires between axles. From the looks standpoint, they're a classically good looking wheel with gorgeous gloss finishes that look perfect on the E90/E92 M3.
Aside from being able to run the same size wheels front and rear, the
BimmerWorld TA16 Forged Race Wheels
save a good amount of weight versus factory wheels, as well as many other lightweight aftermarket wheels. Where the OEM 18x9" rear wheel weighs about 27 lbs, the TA16 18x9" forged wheel is just 18.3 lbs. Even going with the widest TA16 currently available at 18x10.5", the weight is just 19.75 lbs. Lighter weight has several performance benefits, particularly when it comes to lightweight wheels which reduce both unsprung weight and rotating mass. Benefits include:
Quicker acceleration
Better steering feel
Improved suspension control
Beyond the performance benefits, TA16 forged wheels stand out for their ability to soak up just about any abuse you can throw at them. These aren't some sort of pseudo-forged, market-hype wheels. The BimmerWorld TA16 wheels are genuine forged wheels, machined from T6061 aluminum forgings on a 10,000-ton hydraulic press. They're also designed with a proven ridged, cross-spoke design for increased strength and durability, and the outer barrel is strengthened as well. Since these were designed primarily as track wheels, BimmerWorld made sure these can accommodate serious big brake kits, too - up to 380mm. And because high-power cars like modified M3s would be using these for severe on-track duty, the bead seat is knurled to ensure tires won't slip under hard acceleration or maximum braking.
With the combination of strength, durability, and light weight, the TA16s aren't even in the same category as other lightweight performance wheels on the market… Except when it comes to price. Starting at
just $479 per wheel
for real forged wheels, TA16 forged wheels are in a league of their own.
As much as we value performance over all else, we'll be the first to admit we like our cars to look as nice as possible, whether on the street or a race track. The classic cross-spoke design is the perfect match for the E9X M3, and the Gloss Black or Gloss Gunmetal finish makes them stand out whether on track or at a car show.
Recommended E90/E92 M3 TA16 sizes:
Street/Track Fitment: 18x9.5" ET 22
Moderately Aggressive Street/Track Fitment: 18x10" ET 25
Aggressive Track/Race Fitment: 18x10.5" ET 27
Note:
For the Aggressive Track/Race Fitment, spacers may be required with front wheels depending on suspension and alignment setup. Please call or email for help deciding what size will work best for your application.
(Staggered sets are also available. Please
contact BimmerWorld
with fitment questions.)
Getting the most out of staggered factory wheels
Many E90/E92 M3 owners like to maintain a stock look and prefer the staggered fitment, but they also want to fill out their wheel wells a little better than the factory wheel offsets allow. E9X M3 stock wheels leave a little bit to be desired in that department, so combining a 15mm
BimmerWorld Wheel Spacer Set
with the front wheels and 12mm spacers with the rears gives you the benefit of added track width on top of making your OEM BMW wheels fill out your M3's flared fenders enough for a slightly more aggressive look without breaking the bank. Note that you'll need to get either
extended-length wheel bolts
or one of our
wheel stud conversions
(see below).
Additional wheel recommendation:
If you plan to remove and reinstall wheels often, one of our wheel stud conversions will make changing wheels much easier and quicker, or if you just want the strongest way possible to secure your wheels safely, we highly recommend changing from factory lug bolts to one of our
BimmerWorld Wheel Stud Packages
.
Suspension
There's no denying that BMW has a solid reputation for designing good stock suspension systems, particularly on M cars. But even when it comes to the venerable E90/E92 M3, BMW designs the suspension to be a balance between comfort and performance - with an emphasis on comfort. The need to appeal to the broadest audience possible and to keep their costs down means that there's plenty of room for improvement.
There are many E9X M3 owners who simply want their car to look a bit more aesthetically pleasing by reducing the static ride height. That's easy enough to do with a set of
springs
if you don't mind a predetermined ride height, or you can go a step further with a
KW Height Adjustable Spring (H.A.S.) Kit
that gives you the benefits of adjustable ride height and improved handling without needing to change your M3's dampers. The
KW H.A.S. Kit
even works well on cars with Electronic Damper Control (EDC). Of course, like most of us in the BimmerWorld office, many of our friends and customers like to go a step further by choosing a suspension setup with adjustable ride height and adjustable bump and rebound damping for the ability to custom tune handling characteristics based on road and weather conditions or even their mood. Whether you're wanting to push your E9X M3's performance or take clients out for a business meeting, a
KW Variant 3 (V3) Coilover Kit
is an easy and logical choice. With versions for
E90/E92 M3s with EDC
or
M3s without EDC
, the KW V3 kit delivers an ideal blend of performance, comfort, and adjustability to suit your needs in almost any conditions.
With height adjustability, most people tend to use a set-it-and-forget-it approach, which makes sense; changes in ride height affect your alignment, and no one wants to go through that hassle often. However, there are times when adjusting ride height is beneficial, whether it's corner balancing your car after making other changes that affect ride height or if you live in a part of the country with real seasons and want to raise the ride height so you can enjoy your E9X M3 on snow tires without using your front bumper as your neighborhood's snow plow. Regardless of why you need to change ride height, you can always do it easily with KWs because of the one-piece composite adjustment collars with dirt-resistant trapezoid threads combined with KW's corrosion-resistant inox-line stainless steel construction.
Best of the best
BimmerWorld offers suspension setups that are ideal for every BMW and every budget, ranging from springs only to multiple levels of coilover solutions, but our
Motion Control Suspension (MCS) coilovers
are the best of the best. These ultra-premium monotube-based coilover setups can be fully tuned for optimal performance on any E90/E92 M3 in any situation, whether it's a zero-compromise plush daily ride you want or a professional race car that's capable of finishing at the top of its class.
BimmerWorld tuning expert
s are available to help you set up your ideal customized suspension package.
Exhaust
We make no secret about the fact that the E9X M3's S65 V8 engine is one of our favorites, but we also make no secret that it's just too darn quiet from the factory. Any BMW can be made to sound better with a quality exhaust, but the E90/E92 M3 becomes an entirely different car based on the exhaust soundtrack alone. Add to that the fact that you can reduce your M3's weight and add a bit of power in the process, and changing out the exhaust becomes a no-brainer.
We love the ripping sound of the S65 V8 so much that we've designed our own exhaust components from headers all the way back. Since it's the easiest thing to change, the first step for most E9X M3 owners is to swap out the axle-back section of their exhaust, and that happens to produce the most noticeable change in sound.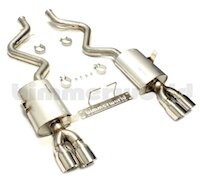 The
BimmerWorld E9X M3 Axle-Back Street Exhaust
gets rid of the factory "silencer" and replaces it with an open-flow muffler that incorporates a unique S-pipe in the muffler design. This feature ensures the sound waves are disrupted just enough to make the volume something you can live with, but it allows a free-flowing path for exhaust gasses to exit the system without restriction. The result is an exhaust tone that's noticeable but pleasant under moderate acceleration and on the highway without the drone of some other systems. However, the real treat is when you open up the throttle and rip through a few gears. The sound is aggressive yet exotic, and it's 100% addicting, so we make no promises about your post-installation fuel mileage.
Beyond the incredible sound, the
BimmerWorld Axle-Back exhaust for your E9X M3
will bolt right onto stock and aftermarket middle sections, including the
BimmerWorld X-Pipe
, and it weighs just 41 lbs, so it's a full 15 lbs less than stock. Plus, the quad 3.5" twin-wall tips are chrome-plated stainless steel, so they look just as good as the soundtrack they deliver.
Note for dual-duty and track cars:
The
BimmerWorld E9X M3 Race Exhaust by MagnaFlow
drops even more weight (just 30 lbs total weight and 30 lbs less than stock!), and the 2.5" configuration is ideal for maximum power output. This system can be used on the street, but your neighbors may not agree with that decision.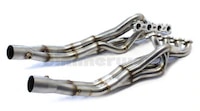 Changing out just the axle-back section of your E9X M3's exhaust is well worth it simply for the sound improvement, let alone the weight savings and better looks. While you'll also get a decent power increase, the real key to power gains with the S65 V8 starts at the headers. Developing the
BimmerWorld E9X M3 Longtube Tri-Y Headers
took every trick learned over the years, but they are a true equal-length, stepped design that's guaranteed to add maximum horsepower and torque. And they reshape the exhaust tone into one of the most exotic exhaust sounds you'll ever hear on a BMW.
Combined with our
BimmerWorld E9X M3 X-Pipe
(available in a
catted street version
and a
non-catted race version
) and our
BimmerWorld E9X M3 Axle-Back Exhaust
, you get a long, flat torque curve with new power everywhere in the rev range (peak gains of 41Hp and 32ft-lb over stock), plus an exhaust sound that will have you constantly dropping gears just to run through the revs at every chance you can find.
Engine & Intake
BMW has done a very good job with the design of their intake systems for naturally-aspirated cars for many years now. The truth is, there isn't a ton of power to be gained there on the E90/E92 M3. On the budget-friendly side of things, however, you can still coerce a few extra ponies (8-12Hp) with the right setup that replaces a few basic intake parts. And then there's the sound. That glorious induction sound the factory sees fit to cover up as much as possible. Not us, though! We like the sound of an S65 V8 gulping in as much air as it can find.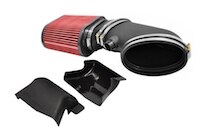 That's why the
Macht Schnell E9X M3 Stage 2 Intake Charge Kit
has been at the top of the modding list for years. No fancy carbon bits, and you don't even need to replace the factory airbox since this kit utilizes BMW's well-engineered solution for pressurized airflow. It's just made better this way…
The
Macht Schnell kit
replaces the factory air filter with a high-performance cotton gauze filter, and the BMW intake elbow is replaced with the Macht Schnell Intake Charge Pipe that delivers 18% more air volume and has completely smooth interior walls in place of the disruptive accordion-style walls in the factory elbow. That means better breathing which equates to more power and better sound. Plus, it's much more friendly to your wallet than just about anything else available, and it maintains a stock-like appearance under the hood.
Release more power with efficient pulleys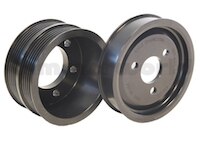 The S65 V8 in the E9X M3 is a tech-heavy engine most people don't necessarily want to open up in order to extract more power. That doesn't mean there isn't already power simply waiting to be released, though. A
Rogue Engineering Power Pulley Kit
reduces the parasitic drag from accessories by replacing your factory power steering and crank shaft pulleys with RE's more efficient units. These pulleys don't technically "add" power, and there are no negative effects. You just get more available power on tap at all times. The gains aren't huge (around 8.4whp and 8.4ft-lb), but they're realistic and very even across the entire rev range, so there's noticeable power everywhere.
Max power note:
For those who want to extract as much power as they can from their E90/E92 M3's S65 (with or without other modifications), an
Epic ECU Tune
delivers custom software tuning for your specific car to maximize horsepower and torque while also remapping your throttle-by-wire system to give improved drivability. ECU mapping is custom tuned to your modifications -
contact a BimmerWorld expert
for more information.
Brakes
People complain about the limits of BMW braking systems when they push their cars in a real performance environment, and that includes the E9X M3. The fact is the M3 is a heavy car, regardless of its performance lineage. The stock brakes on the E9X M3 aren't actually bad, but they can easily be made better by changing out a few simple but key components.
Stock brake pads are designed to be quiet and stop well under normal driving conditions, and they do that job well enough. It's when you push the braking system with repeated stops from high speeds that they start to exhibit their shortcomings. Even with typical high-performance use, it's easy to get the factory brakes to fade. Take your M3 on track for a few laps, and that's when you learn very quickly what improvements need to be made.
Brake pads
Even if you don't drive your E9X M3 on track, brake pads with a higher performance threshold can change your driving experience. They can also change your wheel-cleaning experience since OEM brake pads tend to give off a lot of dust. A lot!
Performance Friction Z-Rated brake pads
do everything better. They offer great initial bite (the feeling when you first touch the brake pedal), are very easy to modulate (good feel that's easily adjustable based on the amount of pedal pressure), and they excel during high-performance use.
PFC Z-Rated pads
can even handle light track use considerably better than stock, and they're perfect for autocross or any typical performance driving situations. Plus. they dust less than stock pads, and the dust they do give off isn't nearly as noticeable as stock, so you won't feel the need to clean your wheels numerous time per week.
Brake fluid

The other key part of your E9X M3's braking system that falls short when it comes to performance is the brake fluid. There's nothing wrong with the OEM fluid, but it leaves a bit to be desired when it comes to coping with the high temperatures often seen in performance driving situations, let alone when you start getting into light track use.
Red Line RL-600 Racing Brake Fluid
has become the go-to choice for most fans of high-performance driving. With wet and dry boiling points considerably higher than stock brake fluid, plus the ability to maintain all of its beneficial characteristics even at extreme temperatures,
RL-600
is ideal for M3s that see anything from high-performance street driving to dedicated track use.
Brake lines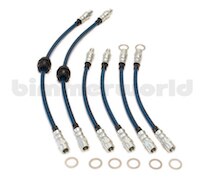 Replacing your E9X M3's stock rubber brake hoses with
BimmerWorld V2 Stainless Steel Brake Lines
is a no brainer, regardless of whether your rubber lines show visible signs of age or wear. Rubber expands, so stock brake lines don't offer the greatest pedal feel, particularly during any sort of performance driving when the temperatures start to increase. Reduced pedal feel also means a reduction in responsiveness and brake-modulating abilities, and it generally means that you need to work harder to get the brakes to react. That all increases temperatures even more and is a downward spiral of brake performance…
BimmerWorld V2 Stainless Steel Brake Lines
have a Teflon core that won't expand, and they're also surrounded by braided stainless steel, which increases durability and abrasion resistance while also ensuring the flexibility and movement required for brake lines. The lines are also fully covered with a blue plastic sheathing that adds another level of protection. custom attachment sleeves incorporate a coated alloy for added strength and chemical resistance, so you get the most robust brake lines available. Note: For extra protection on track applications, an
insulated version of the V2 lines
is available for increased longevity under extreme conditions.
Big brake kits
Changing brake pads, fluid, and lines is the easiest and most budget-friendly approach to improving your E9X M3s braking performance, but that's certainly not the full extent of optimizing your M3s braking ability. When you require the absolute best brake components, nothing is better than the
Performance Friction E9X M3 / 1M Front Brake Kit
. The PFC Z54 calipers in this kit weigh in at just 8.5 lbs, and they're engineered to eliminate any flex while also offering quick and easy brake pad changes. The kit is designed specifically for the E90/E92 M3 (and 1M) and incorporates the same championship-winning components used in professional racing series. These aren't a watered-down street version of "race-like" components. These are the real deal, and they're perfect for use on the street, track, dual-duty or race-only M3s. The PFC brake pads you choose are the only difference between street performance and podium potential.
What Next?
With prices for E90/E92 M3s coming down, and with original owners having already done many of the above modifications, what's next on the list to take your E9X M3 from mild to wild? From a handling perspective, we already listed a few great suspension choices, but there are several other suspension components and bushings that can be replaced to truly give your M3 the ultimate in handling potential.
The E9X M3's S65 engine is known to be fairly bullet-proof, despite its advanced technology, but there are a few upgrades we recommend highly, such as the
cooling system
(
radiator
as well as
oil
and
transmission
coolers) and the
S65 Treated Rod Bearing Upgrade Kit
.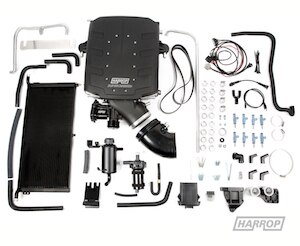 Beyond that, if you really want the ultimate E90/E92 M3, the
Harrop E9X M3 TVS Supercharger
is the last piece of the dream-building puzzle. The exclusive intake plenum looks like factory work under the hood, but the performance is above and beyond anything you'd expect. While we all love to drop a gear or two in an M3 to hear the music, there's no need with the intercooled
Eaton TVS 1740-based Harrop supercharger
. Just put your foot down and get thrown back in your seat… While you watch out to make sure you're obeying all posted speed laws, of course (ahem!). With the right suspension setup, full BimmerWorld header-back exhaust system, and Harrop supercharger, you'll be left wanting nothing more for your E90/E92 M3 (well, except fuel and tires).