MagnaFlow Exhaust for BMW
MagnaFlow Performance Exhausts for BMW
German performance, spoken with an Italian-American accent, and inspired by the Southern California hot rod scene. That about sums up the MagnaFlow Exhaust experience. MagnaFlow has been a fixture in American muscle and hot rodding in Southern California since its founding by Italian immigrant Jerry Paolone in 1981. All MagnaFlow products are designed and produced in Oceanside, Calif in a state-of-the-art 280,000 square foot facility. MagnaFlow's quality and expertise is what attracted BimmerWorld when we went looking for an exhaust partner for our own line of performance and racing exhausts.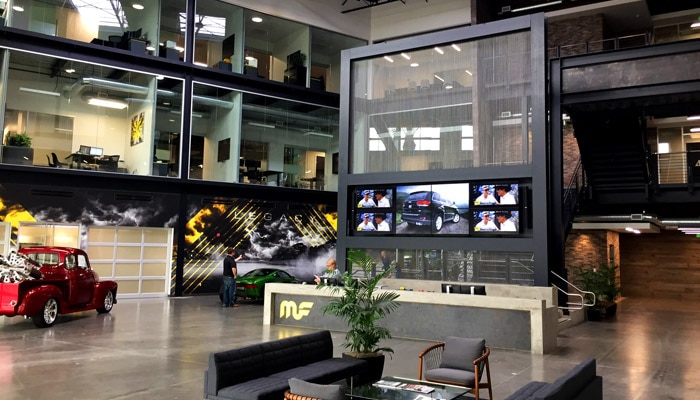 MagnaFlow's impressive Oceanside facility.
Power from Within
All exhaust design and engineering is done in a 30,000 square foot facility in Oceanside. MagnaFlow uses the latest computer design software, rapid prototyping, flow benching, sound testing, and on-car dyno development to produce fully stainless steel exhaust systems that make more power and sound great. Every product they design and manufacture goes through quality and performance evaluations before its released to the public. Not only is their reputation at stake but with ISO 9001 certification and as a direct supplier to several major manufacturers, they must also meet federal, state, and CARB requirements.
MagnaFlow will never sell an exhaust system that doesn't increase power over the stock system.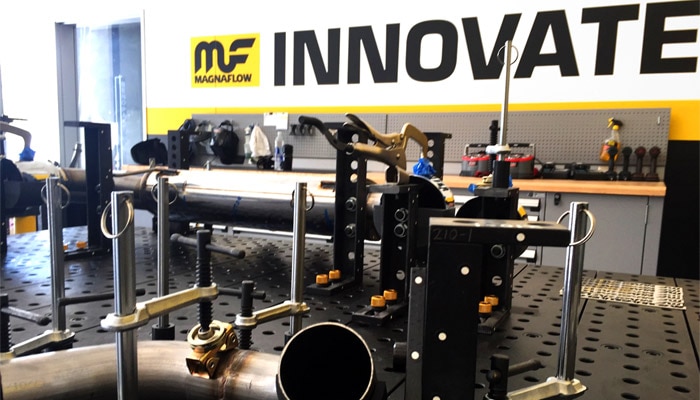 MagnaFlow Innovate Shop.
Made in the USA
All MagnaFlow exhausts are made in the USA - they are very proud to say they are the only American brand that makes all of their stainless exhaust systems and catalytic converters in the US. MagnaFlow's goal is to have a better performing exhaust than stock but that also fits just as well. All of their systems are test-installed on the actual vehicles they're for, instead of copying an existing system. All pipes are Mandrel bent using electric bending machines, which are more consistent than hydraulic machines, and their systems have the fewest number of bends to provide the least amount of restriction. Robot welding is also used for consistency except for the more intricate pieces like OE-style catalytic manifolds. All MagnaFlow mufflers and cat-back systems for BMWs are made with 304 stainless steel, including all internals and components - pipes, hangers, clamps, stainless steel wool packing, muffler shells, and tips. Wherever possible stainless is polished for a mirror-like appearance.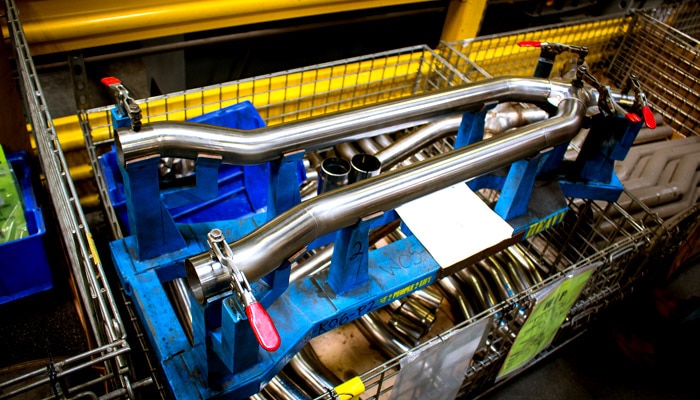 BimmerWorld Racing E9X M3 X-Pipe by MagnaFlow.
BimmerWorld by MagnaFlow
Our relationship with MagnaFlow stretches beyond street systems. When the need for a better E46 330i race exhaust came up we chose MagnaFlow. Not only did their quality impress us but their attention to detail stood out. Although more famous for American brands their depth of exhaust technology, manufacturing expertise, and passion for performance transfers over to the German marques as well. BimmerWorld Race exhausts enjoy the same rigorous design, testing, and manufacturing quality as MagnaFlow OE systems.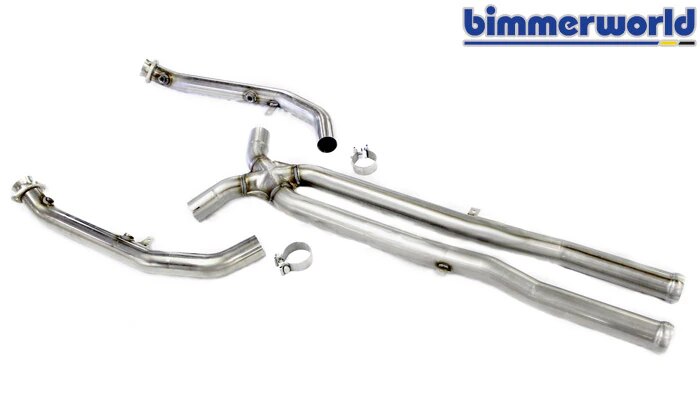 BimmerWorld Racing E9X M3 X-Pipe by MagnaFlow.
MagnaFlow Facility Tour
A Partial Selection of our MagnaFlow Products: