CCB to Iron Brake Conversion

CCB to iron brake conversion is replacing your original carbon-ceramic discs and carbon pads with old-fashioned iron discs and carbon-metallic pads.
Why Swap to Iron Brakes?
Our biggest reason for moving to cast iron is cost. Replacement carbon-ceramic discs for your F8X M3/M4 cost over $4,000
each
(as of April, 2021). For every pair of CCB rotors you can buy a pair of assembled two-piece iron rotors plus 9 pairs of replacement rotor rings! It's very common for Porsche and Corvette owners to swap from carbon to iron discs for any track use and all indications are that the BMW CCB are no different.
A secondary - but equally important - reason for the switch is the deficiency of the stock pads when you get them up to serious race track temperatures. We found our M4 with stock CCB and stock pads will overheat the pads under the right (wrong) circumstances. When overheated they no longer bite into the disc but get "greasy" and will "smear" the rotor surface with the pad material. At this point the rotors no longer have that ideal friction surface and are essentially ruined. Unlike iron discs, carbon cannot be re-surfaced or machined once the pad has glazed. This is not an issue on the street, autocross, or casual track days where you don't get to that temperature threshold. The Pagid RSC pads have a similar friction coefficient but a better material formula so they can withstand track temperatures and not get greasy. Factory CCB + Pagid RSC is the must-have combination if you're tracking with carbon brakes.
Click here for more info
on Pagid RSC pads for F8X CCB.
Don't Carbon Ceramic Brakes Last Longer?
Yes but only when used within the frame they were designed for - namely regular street use. Step out of that frame and you can find yourself with a very expensive experiment gone wrong. Carbon discs wear very little on the outside. Measuring wear is done primarily by weighing the disc. As the disc gets hot the carbon material within breaks down into dust that dissipates through venting. Track driving will accelerate carbon wear if you are approaching or exceeding the temperate threshold of the pads (see above). Remember that these are heavy cars tuned for more power and speed, and that means greater heat under serious braking. Upgrading the pad material should resolve the smear effect but you still have to watch brake temps or plan on replacing carbon discs when they become under-weight.
Will I Lose Performance?
The myth of OE carbon-ceramic brakes is that they are race-bred parts that perform better on track. But OE carbon discs are not the same material or technology as the carbon brakes used at LeMans or F1. OE carbon-ceramic discs are all about the cool factor, lighter weight, and longer life. We did not see any loss in braking performance in our back-to-back testing of carbon-ceramic vs iron. Our F82 M4 project car was equipped with a Motec data recorder to capture brake system pressure, system pressure with ABS, wheel speed, vehicle speed, longitudinal G force, and more. We tested OE carbon pads and Pagid carbon pads on the CCB rotors. Then swapped to Giro Disc iron rotors and Pagid race pads. Braking performance, measured by G force and brake pressure, was virtually the same with the iron brakes. And because the pads were not giving up under the heat we had more confidence in the car.
Our pro racer behind the wheel can feel the difference between the carbon and iron discs. The CCB saves 15lbs per corner and that makes an impact in MOI and performance. Weight does matter but is it worth the enormous additional costs? If CCB discs were comparable in cost to iron we would be big fans and this page wouldn't exist.

What Is Needed to Swap?
In a F8X CCB conversion we keep the original CCB calipers and only swap the rotors and pads. The calipers are not specific to the CCB brakes - they are actually the same as the M2 Competition and very similar to the F10 M5. But they get the gold finish for CCB use. Every other part of the caliper is the same between CCB and iron - caliper seals, brake master cylinder, brake booster, lines, etc.
We use the rotors from the M2 Competition - 400x38mm in front and 380x28mm in back. As a track upgrade we like the Giro Disc 2-piece rotors because they are lighter than OEM iron rotors, have a better vane structure and premium metallic content, and the iron friction rings can be replaced separately. You can also use factory OEM M2 Competition rotors. Note: because the rotor size stays the same you must still run 19" front wheels. If you want to run 18" wheels you must switch to a smaller rotor, like
our Alcon 380 kit (click here)
.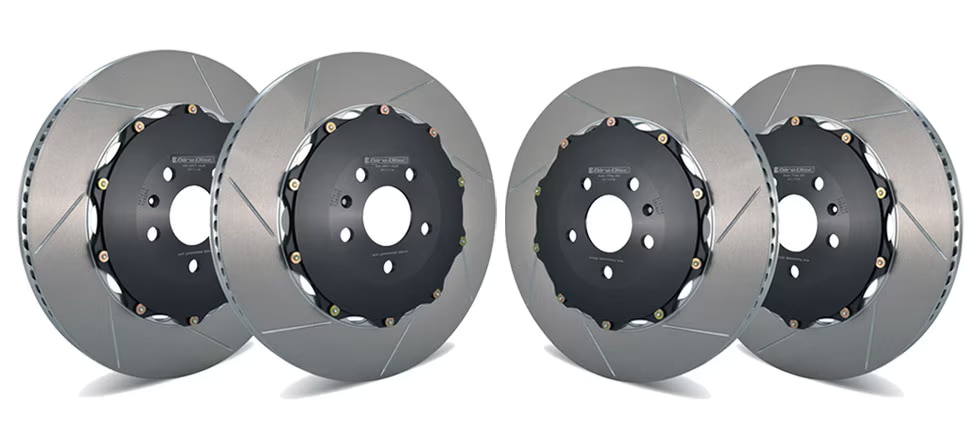 For pads, any set for the M2 Competition will also work. For the street you can run OEM, StopTech, Textar, or any other M2C pad. For the track we have chosen Pagid RSL29 or RST1 pads. The RSL pads work great with street or 200TW tires and the RST can be used with a grippier sub-200 slick tire. You will need pads for the front and rear axles.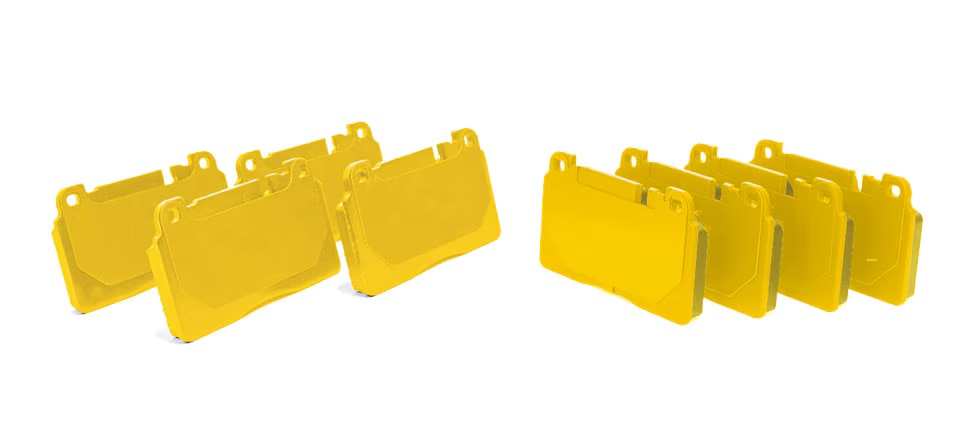 Conclusion
If you regularly track your M3/M4 the economics just don't work for the returning performance benefits. With a proper track pad the CCB are excellent on track and the reduced weight does slightly tip the scales in their favor when cost is ignored. But that cost is more than significant. Even for street use the numbers are hard to quantify if you plan to put 100,000+ miles on your carbon brakes. At that point you're looking at a potential $16,000 repair bill! On a car that might be worth $30k.
You can switch back to factory CCB at any time. The iron conversion is a 1:1 swap of the original parts so there is no modification needed. Changing back to CCB is the same as any other brake job. Just make sure to safely handle and store your CCB rotors to avoid damage!
There is no denying the cool factor of CCB, they last a long time, create a meaningful weight advantage, and they are cutting edge technology. But we cannot get on board until prices become more affordable.
Related: Pagid Track Pads for CCB
Keeping your CCB and using the car on the track? You'll want to read and watch this segment on our results with OE carbon pads at the track and why switching pads is essential.
Link:
https://www.bimmerworld.com/F82-M4-GTMore/
Watch:
M3/M4 CCB-to-Iron Conversion Parts:
---