E92 M3 Street/Track Project Car
Last Update: 8-11-2017
This project has taken on a new form...
Meet the BimmerWorld E92 M3 Pikes Peak Hill Climb Contender!!!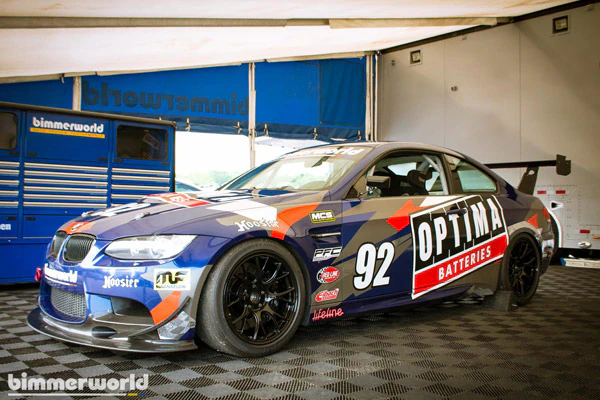 Click the photo above to be taken to the new page.
But before this was a hill climb car, it was our Street/Track Project Car. We wanted to demonstrate that a E92 M3 could be built as the "total package" dual-purpose machine for around $45k, including the car (2016 prices). And that's how this page began...
Few cars get the heart rate pumping like the 2008-2013 BMW M3, the first V8 powered M3 and perhaps the last naturally aspirated BMW M engine, at least for the foreseeable future. With 414 hp erupting from it's 4.0 liter power-plant, it's no wonder some might call the E9X M3 a German "Muscle Car." Available in 3 different body styles (E90 sedan, E92 coupe and E93 convertible) the 4th Generation BMW M3 lends itself to many driving uses, whether taking passengers on a thrill ride, cruising the coast with the top down, or tackling historic road courses across America.
Like all previous generations of M3 before it, the E9X chassis M3 has a potential that can be unlocked with the right upgrades and parts enhancements. This is where we get most excited, as we've had plenty of experience tailoring many examples of the E9X M3 for a wide range of uses. From tasteful street modifications, to huge boost superchargers, to corner-carving track machines, to fully built professional race cars, BimmerWorld has been actively involved in the development and tuning of the E9X M3.
With prices falling into more affordable ranges, we thought now was the perfect time to illustrate what we might do to our own M3 V8 hardcore track car. So we picked up a new (to us) Interlagos Blue M3 Coupe to embark on another project. Our initial thought is to build this example out to be "fast" and sorted for the track, with its comfy street manners taking a bit of a back seat. Then we thought "Do we even need a back seat??" That's when we decided the only street driving we really want to do with this car is driving it to and from the track. Otherwise, we don't need the street car comfort items, so we plan on removing much of the interior for weight and adding a cage. As we go we may even redefine our goals with this project car, but along the way we hope to inspire current and would-be E9X M3 owners with track-focused products and upgrades that can help transform a stock street car into a hardcore track-day weapon.
Project E92 M3 Photo Gallery - First Looks
---
First Stop: Maintenance
It's a must to go over the maintenance on any used car, especially a high performance BMW M3. We went through the general tune-up and standard maintenance that shouldn't be ignored, especially on a car that will see plenty of laps. The very first thing we did was to do a full fluid service, using Red Line synthetic engine oil, D4 ATF for the 6 speed manual gearbox, and fresh 75w110 for the M Variable LSD. We also ran a bottle of Red Line SI-1 Fuel System Cleaner in our next tank of premium fuel. Here's a gallery of the car as it receives its Red Line "spa" treatment:
---
Added Power you can Feel AND Hear - MagnaFlow Exhaust
One of the complaints we hear about the E9X M3 is that while the S65 V8 sounds good, it certainly sounds very muted and tame. That's because the stock exhaust system from the factory is designed to prevent even the fussiest new car owner from complaining "It's too darn loud." So every E9X M3 comes with a rather muted and muffled stock system. While this affects the sound, it also restricts the power output considerably. In our years of Professional Racing, we developed exhaust solutions specifically for the E92 M3 to unlock considerable power on the race track, and we know that same power is there to be realized on a street/track car.
For a dedicated track car, we have a specific exhaust:
The BimmerWorld E9X M3 Race Exhaust by MagnaFlow
, a super-lightweight axle-back system coming in at about 30 lbs lighter than stock.
Our partnership with MagnaFlow affords us access to the newest technology in exhaust manufacturing that we use to develop and prove on our own dyno. The exhaust system we're using (at the moment) for our E92 M3 Project Car is the MagnaFlow street exhaust. This is so we can test a set of new secondary pipes we're currently working on to be used with stock S65 headers. Once we're happy with the power output and sound of our in-development second section pipes, we may change up the rear exhaust on our Track Car Project once again. Below are photos of the MagnaFlow exhaust install, which give an idea of the quality, fit and finish.
---
What's next?
Shortly after this page went live we began thinking about a fresh event to display our work. We wanted to demonstrate the quality of our products in a new environment which would also offer up a challenge to ourselves. "Hey, why not a hill climb?" Once the idea was offered we couldn't let it go. So this Street/Track car project has taken on a new form. It still retains a lot of the goals and values that we initially laid out for ourselves - take an ordinary street E92 M3 and make it into a superbly capable track car while still retaining its roadworthiness.
To read all about our Pikes Peak Build, click here
.
The original project car idea is still rolling around in our heads so don't think we have totally abandoned it. The idea of a total package dual-purpose car for "not a lot of money" is still something we want to pursue so stay tuned!
Products To Build Your Own Street/Track M3: