Eibach Suspension for BMW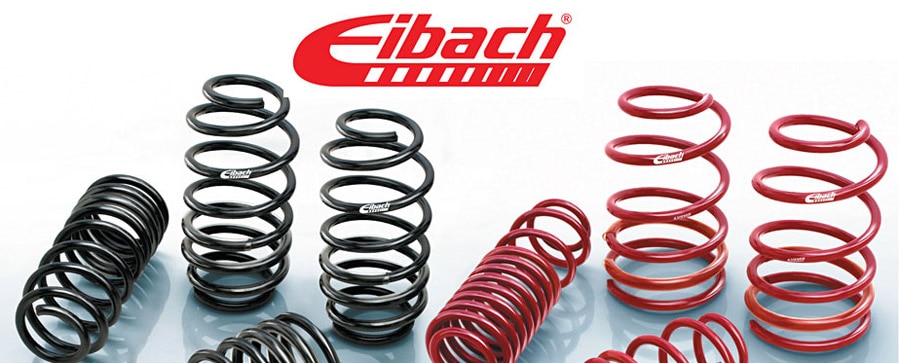 Eibach is one of the world's leading suspension tuners and manufacturers - and has been so since their expansion from Germany in 1967. Eibach is a dream-to-reality business - they dream, design, engineer, and manufacture their own suspension products with an emphasis on performance. They are also one of the only aftermarket suspension suppliers to have OEM Tier 1 and Tier 2 status by way of manufacturing components for marques such as Bugatti, Toyota, and BMW. They also produce springs under private label for many well-known American and German suspension brands. Eibach has also earned the trust and respect from top teams in NASCAR, Touring Cars, IMSA, WRC, and F1. They earned that by having state-of-the-art design and fabricating technology and self-imposed goals that exceed ISO quality standards.
Eibach Suspension Types
Coil Springs
BMW PRO-KIT
The PRO-KIT is Eibach's "Stage 1" performance spring with a 5-10% rate increase over stock. They are designed to reduce fender gap and lower the center of gravity but without a ride penalty. PRO-KIT springs are progressive with a softer overall rate than the Sportline springs which maintains most of the stock suspension's ride quality. PRO-KIT springs are slightly softer than competitor's Sport springs. BMWs with PRO-KIT springs typically lower the ride height by up to 1.5 inches. PRO-KIT is ideal for a BMW owner who wants a slightly lower stance and less wheel gaps but has concerns about ride quality. You may be able to use factory shocks with a PRO-KIT, however Bilstein Sport or KONI STR.T are a better match.
BMW Sportline
The Sportline is "Stage 2" and aimed at enthusiast drivers who will accept more ride stiffness in return for much better handling and reduced body roll. Sportline springs are progressive springs so the initial travel is quite mild and get stiffer as the suspension compresses. It has an overall stiffer rate than PRO-KIT springs but still only 10-15% stiffer than stock. A Sportline kit for your BMW will lower the car up to 2.3" so Sport shocks are required.
Motorsport & Coil Over BMW Springs
For street coil overs and motorsport applications the Eibach ERS springs feature a wide range of lengths and rates, linear spring rates, 60mm, 2.25", or 2.5" diameters, and obsessive attention to detail and quality. In all forms of motorsport, it pays to be precise. A low tolerance for rate variation is at the heart of Eibach's ERS race spring production. So much of a suspension's setup and performance is traced back to spring rate and if you can't count on the accuracy of the spring the rest of setup goes out the window. Eibach ERS springs are made with rates as low as 125lb/in which makes them suitable for street coil overs as well. Desiring a spring change? We can outfit your aftermarket coil over kit with Eibach springs. As experts in suspensions and BMWs in general we have the knowledge and experience to make recommendations that will meet your goals.
Sway Bars
No BMW suspension tuning would be complete without sway bars. Sway bars, or anti-roll bars, work with the existing springs to balance the car and manage weight transfer. It's vital to have a spring rate and sway bar that work well together. Super-sized sway bars will restrict the movement of the spring and prevent proper suspension motion. Eibach spring kits are usually developed with upgraded sway bars as part of an overall package. Eibach bars complement their springs and deliver razor sharp handling. Eibach swaybars for your BMW are manufactured from German cold-formed spring steel and powedercoated for long service life. Mounting hardware and bushings are also included where required.
Packages
Bilstein B12 BMW Kit
Bilstein's B8 sport shocks are paired with Eibach PRO-KIT or Sportline springs to deliver exceptional handling levels. After rigorous testing Bilstein concluded their shocks were and excellent match to Eibach springs. These packages are offered as complete 4 shock and 4 spring bundles at an attractive price.
KONI STR.T BMW Kit
KONI selected Eibach PRO-KIT springs to pair with their entry-level STR.T performance shocks. Why? Because the comfortable ride qualities of Eibach were a excellent match for the similar qualities of the STR.T shocks ("Street"). KONI STR.T shocks are non-adjustable Sport shocks with fixed valving that improves handling without affecting ride comfort. The combination of PRO-KIT and STR.T produces a slightly lower ride height and better handling but with near-stock levels of comfort and precision.
KONI Sport BMW Kit
Eibach Sportline springs are paired with KONI Sport shocks for a dramatically improved handling package that is not punishing for normal street use. Sportline springs are not race springs - they are designed for the street for the most handling improvement without the ultra-stiff spring rates. Some ride comfort is sacrificed for this level of handling but we did not find them to be back-breaking. The Sportline spring & Sport shock combination simply delivers the most impressive handling improvement without going to a true coil over.

Motorsports obviously plays a vital role in the development and legitimacy of the company's products. Racing is a proving ground for the performance and durability of ones products and Eibach knows that more than any other spring company. Their spring products are found in all forms of motorsport and not as result of marketing. The performance and consistency of Eibach is what attracts suspension engineers. And Eibach supports customer teams at major race with a dedicated technical team. Eibach has been the official spring supplier to NASCAR, BMW Motorsport, Audi Team Joest, Audi DTM, M-Sport/Ford (WRC), F1, and the BimmerWorld Racing Team. Any company can sponsor a race car or wind a steel rod into a spring - but only a few will dare to compete and win at the top levels of racing.
BimmerWorld M4 on Eibach PRO-KIT
Eibach California Tour
Recently, BimmerWorld was a guest of Eibach at their Corona, California R&D and manufacturing facility which handles R&D, prototyping, and manufacturing.
Eibach also does R&D and production of sway bars. Manufacturing sway bars requires some specialized and extremely strong machinery. Eibach's bar bending machines can bend tube up to 40mm thick!
Eibach Videos
What we came away with was an understanding and appreciation of how advanced spring technology and production is. Eibach takes huge pride in their quality standards and engineering. Their standards are beyond the ISO 9001 and anything less is unacceptable. We have noticed their quality in our own race cars where the motorsport coil over springs have greater consistency than any other spring we've used. This is a huge factor in our car setup and keeps our own engineers from guessing. Perhaps this sign summed it up: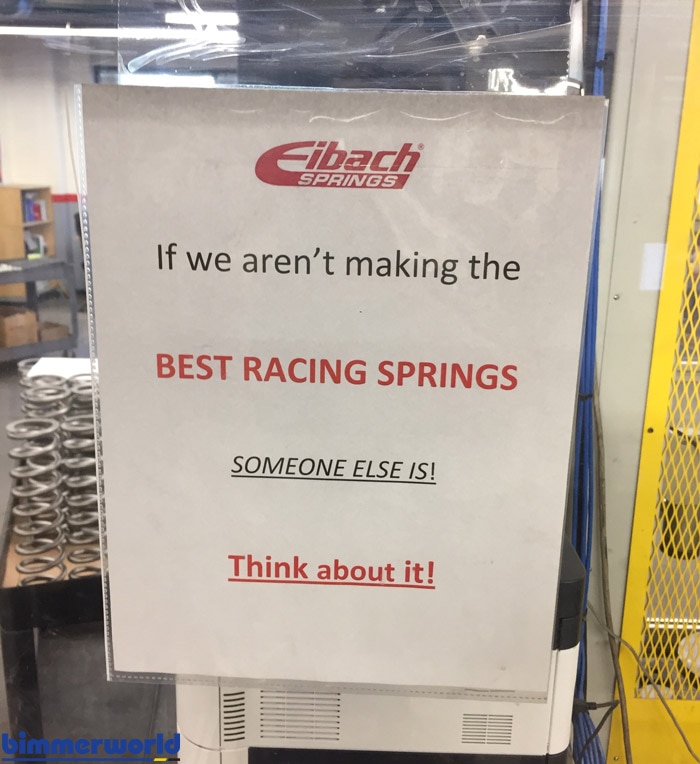 Think about it.
---
Shop Eibach Suspension Upgrades for BMWs