F82 M4 GTMore
Intro
---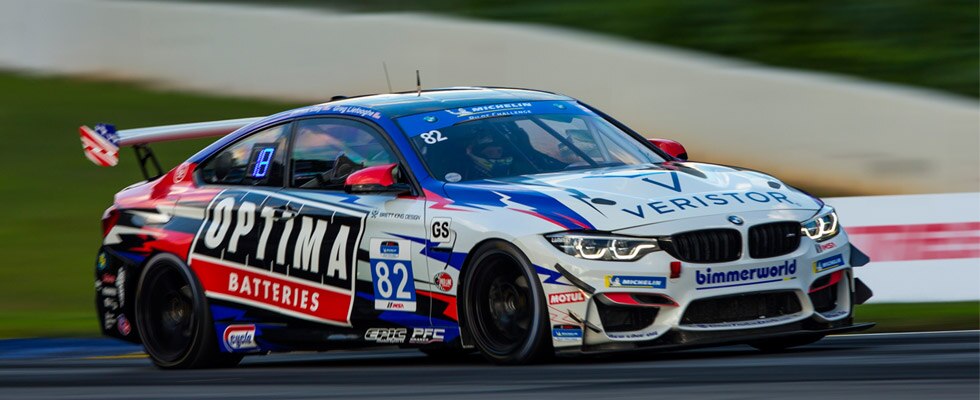 BMW competes in international racing with the F82 M4 in the GT4 class (and soon to be in the GT3 class). We were among the first US teams to receive the GT4 and promptly put it on the podium. As a Customer Car from BMW Motorsport it's an outstanding machine. But in motorsport with multiple types of cars there are compromises to level the playing field for everyone (aka Balance of Performance). In the case of the M4 GT4 that handicap comes mainly in the form of a power restriction. There are five allowed power levels for the M4 when it competes in GT4 trim. When allowed, the highest level is about the same as a stock M4 GTS - 500hp. Looks can be deceiving but our racy GT4 is often slower in a straight line than our tuned street cars. The Porsches have to keep up somehow.
So that led to the question, "What can a GT4 do if it was un-leashed? How much faster can we make a street M4 than our GT4 race car?"
The Car
---
Our subject is a 2015 F82 M4 in Mineral Grey with DCT and Carbon-Ceramic Brakes (more on those later). The car was completely stock when we received it and had covered just 53,000 miles. First stop was the workshop where it got a
complete fluid change to Red Line Oil
and then onto the dyno (421whp, 415wft-lbs).
M4 Racing Steering Wheel Upgrade - KMP Corsa Wheel
---
Speed comes from within.
It feels like we have just as many hours from the seat of a race car as we do in our everyday street cars. That's why a racing steering wheel was the first upgrade we did on GTMore. Replacing the "school bus" sized factory wheel for
this special OMP Corsa wheel
is a big improvement not just in feel but in setting the tone for this build.
And this is not just any race wheel because you can't bolt on a universal wheel to an F8X car and expect everything to work. The electronics are much too sophisticated for that. The engineers and craftsmen at KMP Drivetrain in The Netherlands have reverse-engineered the factory electronics, clock spring, and hub to provide a bolt-on race wheel for F8X as well as other modern BMWs. Some minor wiring may be required but the beauty of this wheel is that it retains the critical functions of the factory wheel and is customizable for others as well. We had ours built to retain the M1 and M2 mode buttons, horn, and traction control settings. KMP supplies the correct plugs and wiring to make it all work.
Normally we would not recommend removing your air bag without first having proper 4 or 6-point harnesses, a proper seat, and a rollbar. But all of those things are just around the corner. Adding this wheel first puts the focus on the task at hand - speed. Because racecar.
Watch more:
M4 S55 & DCT Complete Fluid Change
---
It's pretty much universal that when you buy a used car you change the oil. Especially true for cars that have just surpassed their factory maintenance plans where - if you were lucky - it got a few engine oil changes, brake fluid flushes, and radiator coolant top-offs. It did not get transmission or differential oil changes under the BMW maintenance plan. If you want to invest in the long-term health and performance of your new purchase a
complete fluid replacement
is a smart move. Here are the fluid products we used in our new-to-us F82 M4.
Engine Oil - Red Line Euro Series 5W30.
The Euro Series is a special formula intended for European makes. It's a high-performance Group IV/V full synthetic with a high ZDDP content but low SAPS value. In plainer English it's more compliant with modern technology in Euro cars, especially turbocharged BMWs. As a true full synthetic (not marketing) it has extremely high shear resistance at high temps and does an excellent job of coating metallic surfaces. The low SAPS makes it more compatible with modern catalytic converters that should not be using older high-ZDDP engine oils. The Euro Series is the best option for a high-performance turbo BMW.
Coolant - Red Line Supercool pre-mix.
This is a new coolant/antifreeze formula from Red Line that ticks all the right boxes for us. It's compatible with factory BMW coolant, including being Nitrate, Phosphate, and Silicate-free. It's pre-mixed with distilled water. It's pre-mixed with Red Line Water Wetter. And it has a longer service life than factory fluid.
Transmission - Red Line DCTF.
This was a no-brainer for us as we used it in our factory M4 GT4 race cars and it dropped the transmission temps right away. When temps get high the shift time and performance suffers, even to the point of faults and limp mode. The GT4 has slightly improved cooling and capacity over the street car but it needs all the help it can get and Red Line DCTF helped us out a lot.
Differential - Red Line 75W140.
Just like with the transmission fluid, the properties of the gear oil also help reduce internal diff temps. The 75W140 grade is the same as the factory oil weight but the quality of the base stock is much better.
Brake Fluid - Red Line RL-600
*. Brake fluid should really be changed completely every two years. And more often if it's a track car. The factory fluid is DOT4 so it's pretty good out of the bottle. Red Line RL-600 is a Super DOT4 that actually exceeds DOT5 specs.
* - the factory fluid is a low-viscosity weight, meaning it's super thin. For any street use we recommend an OEM low-viscosity fluid such as Pentosin or Ate. However, for track use this fluid becomes too thin when it gets hot so we start out with the traditional normal viscosity RL-600 and let it thin out as it gets hot. These normal viscosity fluids can be used on the street but it's not recommended.
Red Line Fuel System Cleaner.
Any car regardless of mileage can use an occasional fuel treatment. An internal combustion engine leaves carbon deposits throughout the system and that will have detrimental effects at some point. An occasional cleaning will break up carbon deposits (to a certain extent) and improve efficiency and performance.
Watch more:
Learn more:
---
MORE TO COME....
There's more to come! Bookmark this page, or better yet,
subscribe to our Email Newsletter now
and we'll send you periodic updates on our BimmerWorld Project Car transformations.
GTMore Parts:
---