F82 M4 Project Car
Last Update: 1-11-2018
Project F82 M4 Photo Gallery
---
First Mods: Eibach springs, PFC Pads, Forged Track Wheels & Tires
With track season upon us, there's no time to waste. This M4 will be seeing lots of laps and needs a proper set of track shoes. Our priorities are light-weight, strong, ideally sized for handling, balance, and maximizing our consumables. We expect to go through some sets of track rubber, and 18" sized Hoosiers are much more widely available (and affordable). For this reason the choice was clear: A set of our exclusive
18" TA16 Forged Technical Alloy (TE:AL) wheels
in a track-friendly square setup.
The found the best fit for this street car was the 18x10" ET33 for both the front and rear, a 12mm spacer for the front wheels, and Hoosier 275/35-18 at both the front and rear. Using the front spacer gives us a 100% square setup, allowing us to rotate the wheels and tires for better tire life. Having 275s at both ends of the car gives the perfect front-to-rear grip ratio for neutral handling, as opposed to the understeer effect of the stock staggered setup.
We had a choice on the color, and chose the Gloss Black option over the Gloss Gunmetal. While both would look great on our M4, we went for the aggressive "Darth Vadar" gloss black look. Cue the heavy breathing, here comes the photo gallery:
---
Speed Boost via the Speed-Buster Plug-In Tuning Module
Piggyback modules usually offer a cheap and simple way to add more boost on a turbocharged car. We have watched their rise in popularity with detached interest and with some internal debate as to how well they actually work (especially compared to flash software). There seems to be two types of kits for BMWs: the Burger Tuning JB4 and everything else. We've had previous experience with the JB4 on 135i and 335i customer cars and were impressed with its features. And while that kit will satisfy a particular corner of the enthusiast market we were more curious about the other, more basic tuning module kits out there. We were surprised that they all seem to be really similar in appearance and content. They go by different names and many claim to have custom tuning but after some digging we found that nearly all of these power module kits can be traced back to one company in Germany: Speed-Buster. We bought one of their F82 M4 tuning boxes directly from their site (at full retail) and had it shipped over.
The tuning box kit comes with a large wiring harness, the tuning box with software inside, and dummy plug for reverting back to stock. The harness and connectors seem to be well made with each end labeled for its intended sensor (in German). On the S55 engine the harness plugs into 3 sensors: camshaft sensor, MAP sensor on the intake, and another MAP sensor on the intake manifold. The installation is straight-forward: unplug the stock harness from the sensor, plug in the Speed-Buster harness to the sensor, plug the original harness into the Speed-Buster harness. Connect the harness to the tuning box and it's ready to go! We turned the car on and the engine ran rough with sputters and misfires. And it did not smooth itself out. Did we get the wrong kit or software? We unplugged the tuning box and plugged in the dummy plug that came with the kit. This would remove the software from the equation and the car should run like stock. It did not improve and continued to sputter and misfire. That could only mean a problem with the harness. We went over our install again and checked each of the three sensors and found that we did not push the camshaft sensor plug all the way onto the sensor. It was only making intermittent contact. A quick disconnect and firm reconnect and the engine fired right up and ran as smooth as stock! We reconnected the tuning box and it was still perfectly smooth. Lesson learned - even the pros make mistakes. Slow down and focus on the task at hand.
With the install complete we went for a jaw-dropping test drive. Speed-Buster claims 96ft-lbs of torque and we believe all of it is present and accounted for. We had some doubts but this little kit added a ton of power for not much money. What was really nice was how linear the gains felt. It was not a sudden torque spike at low RPM. The extra boost gradually increased as the RPM rose. This made it easy to drive on the street. Satisfied with our quick blasts around town we hit Virginia International Raceway for a track event and to see how the M4 would handle the extra boost under more demanding conditions. Again the gradual torque increase was appreciated as we were able to feed power to rocket off corners and fly down the back straight. No one was keeping up with us and the car felt just as fast as our 600hp turbo S52 E36 wagon.
We returned to the shop and put the car on our dyno - peak power gains were
71hp and 75ft-lbs at 5,000 RPM
- comfortably close to Speed-Buster's advertised gains. And the torque curve confirmed our experiences. It has a nice build-up in torque from 3,000 to where it peaks at
496ft-lbs at 4,300 RPM
.
F8X M3/M4 Speed-Buster dyno results.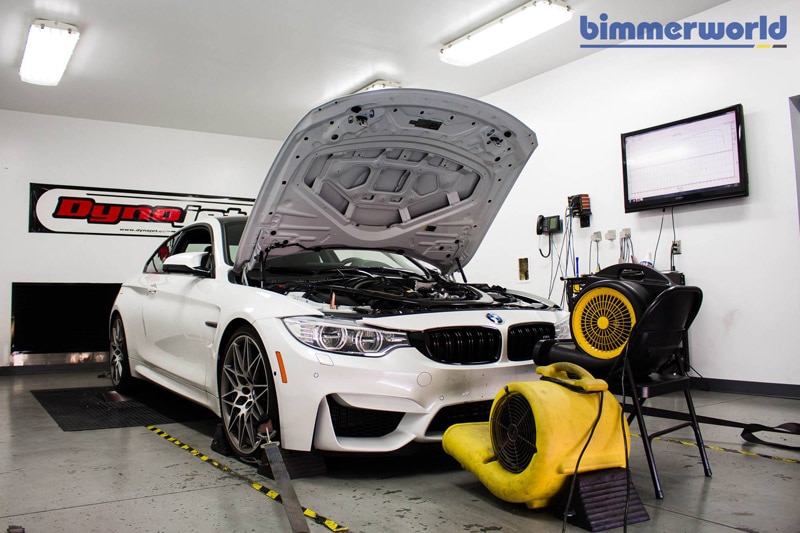 F82 M3 ZCP on the dyno at the BimmerWorld shop.
Clearly the piggyback tuning box was something worth investing in so on a trip to the Nurburgring with OPTIMA Batteries we met with Speed-Buster at their Sinzig headquarters, less than an hour from the track. They manufacture all of their components on site in Germany, including the circuit boards. They have in-house dyno facilities and workshops for development and testing. We were impressed with their quality product and signed on as dealers to offer their BMW tuning modules in the US. And we're pleased to offer the authentic Speed-Buster kit at real world prices and without the gigantic markup of the private label kits. The street, track, and dyno testing adds up to a solid power and torque gain with minimal install effort and an attractive price.
---
A Cold Air Intake That Actually Works!
Improving airflow into the engine is always key to making more power, whether on naturally aspirated or forced induction engines. Cold air intakes or cone filters usually come with a bit of snake oil - the gains are there but rarely can they be felt with the butt dyno or on the actual dyno. Injen Intakes approached us about selling their new line of Evolution roto-mold intakes. Injen is a famous name in the Japanese import market but have never really made impressions on the European segment and they wanted to change that. With guarded optimism we agreed to try one of their kits on our project cars.
The kit contains both airboxes, filters, the crossover intake tube between them. All pieces are roto-molded plastic, similar to 3D printing. The plastic material is high quality and resists heat better than an aluminum or metal intake. The black finish blends well with the other plastic under the hood and the glossy black Injen logos are subtle enough to not draw too much attention. This is definitely a high quality kit in appearance, fitment, and construction.
Injen intake installed on F82 M4.
But the real draw to a product like this has to be the power gains. It's the meat that makes a great sandwich. We were blown away with the gains on the dyno! The peak power didn't increase, in fact it dropped a bit compared to stock at the high RPM (which may be written off as normal variation between runs). But the torque gain under the curve was truly impressive -
+37ft-lbs at 4,400 RPM
. There are solid torque and power gains from 3,000 to 5,500 RPM. And at a retail price under $700 that's a fantastic gain for dollar deal!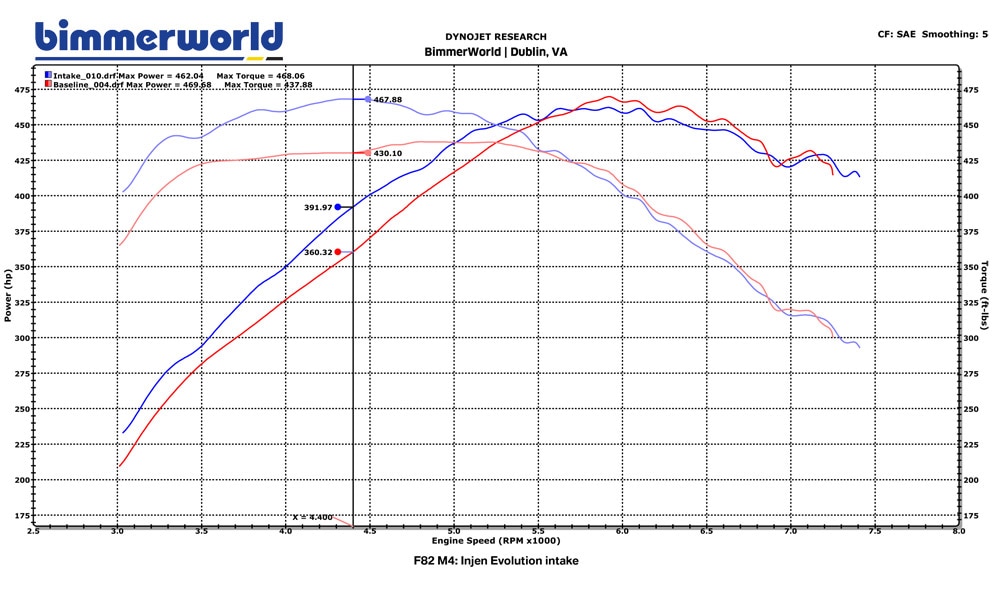 Injen intake dyno results on F82 M4.
We also tested their Evo intake on a F30 328i and found similarly impressive gains. Based on these experiences we integrated the full line of Injen BMW intakes to our catalog.
---
M3/M4 Flash Software Upgrade - The Next Level
We mentioned above that we had a distant interest in piggyback tuning and that is because we believe flash tuning is the better method of upgrading software. If you can access and understand the stock computer code and logic there are more parameters and more data that can be modified and controlled. However, vehicle manufacturers do not invite you to tune their software so they make it almost impossible to access by using very advanced and sophisticated encryption. Piggyback tuners made it "easy" to get around the encryption by sending modified signals to the ECU. But nothing can beat having absolute control. As with any system, eventually someone found a way in and M3/M4 software tuning became possible but with a catch. To enable writing of new software, a modification was required inside the computer itself. This necessitated removing the ECU from the engine and shipping it to a competent and skilled tuner who could A) drill a hole in your ECU cover, B) apply a "patch" to the circuit board, C) seal it up, D) offer impressive tuning to make it all worthwhile. No flash was possible without this backdoor "boot mod".
We experimented with this method and tuning with our software partner Epic Motorsports and found that there were truly impressive gains on the S55: almost 90hp and over 100ft-lbs of torque at peak power levels. But the boot mod install step was really bothersome even if BMW dealers were doing it for regular updates. We decided to hold off on offering a product for sale except for a few local customers and friends (who were blown away by the power gains).
In late-2017 Epic Motorsports came through with the long-rumored flash that did not require the sketchy boot mod. The new method is the same as with any car. Flashing the car is done through the OBD port with the Engine Calibration Interface cable (ECI) and a Windows laptop. The stock file is read from the OBD port and sent in to be modified. We provide a tuned file back that is loaded back through the OBD port. The car can be driven while the tuned file is processed so there is no downtime. Each Read and Write process takes just a few minutes.
The software itself has been completed for quite a while but Epic used the extra time to further refine the torque and throttle maps. There is so much torque available in the low RPM that it was hard to drive the car without lighting up the tires. Epic massaged the torque maps to gradually increase torque output. From our race experience we value being able to put as much power down as early and as smooth as possible. And this was the goal that we worked relentlessly to achieve. The final dyno numbers are staggering: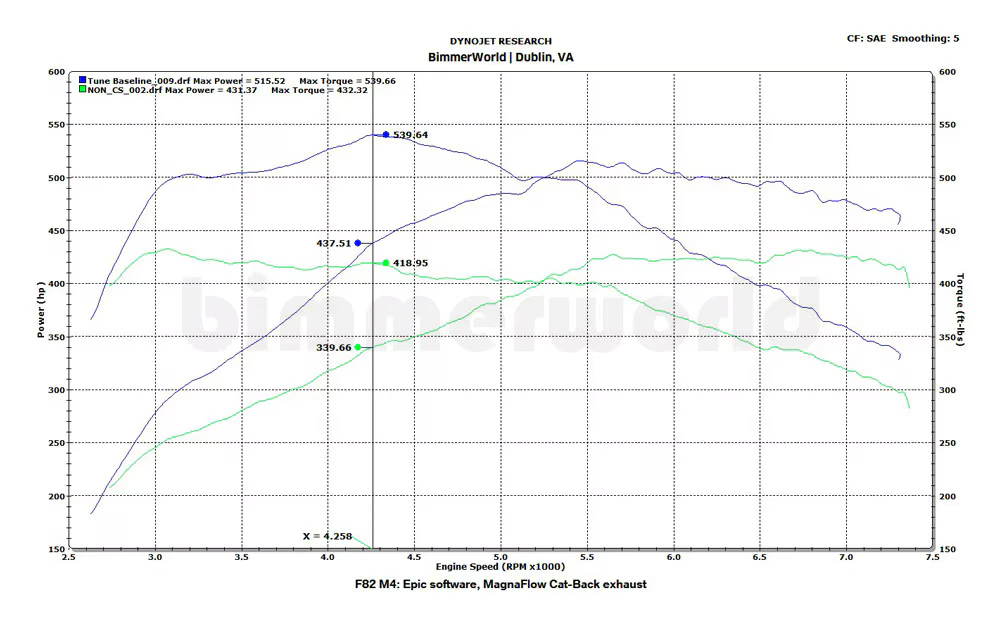 Stock vs. Epic tuned F82 M4 dyno
F80/F82 M3/M4 Power Gains:
+84hp
+107ft-lbs
That doesn't tell the whole story though. Those are gains at peak output - the max power numbers read on the dyno. There are higher gains in the low and mid range. At 4,250 RPM we're up a staggering
120ft-lbs over stock
. And that's the torque peak of 539ft-lbs.
The car is just a rocket to drive. There are no side effects, dead spots, or hesitations - just immense torque everywhere. Without traction control on, be prepared to correct with both throttle and steering immediately. We also focused a lot of attention on tuning for the different driving modes. In Efficient Mode the car behaves much like stock but with clearly more torque and power. Regular Sport Mode is the sweet spot for our driving preference. But if you really want to unleash it and hold on, Sport Plus mode is still a usable map that will take your breath away. The exhaust note also changes with each mode. There is more bark and crack to be heard. It's still subdued in Efficient but will snap like a firecracker in Sport Plus. Sport was where we found the best blend of torque, throttle, and exhaust note.
We also experimented with the software from the GTS, the M4 CS, and the new M4 GT4 race car. They all had limitations and did not perform as well as we hoped. The GTS has very different fueling and torque maps because of its water injection. Without the additional cooler intake temps the GTS software is not really appropriate. But we still learned a bit about how BMW made more power and torque for that car. The CS was a disappointment as it only gained 23whp on our dyno and it came high in the RPM range. There was no useful torque gain down low (in fact it either lost or had zero gain depending on the run). The GT4 software was not going to be very impressive and we knew that going in. The GT4 series is a homologated series and the performance of the car is tightly regulated throughout the season. It's a compromise tune designed to be competitive but not have a power advantage. The tuning is actually quite close to the GTS. But we still gained some knowledge and insight that helped improve our own file. And with the Epic S55 tune making so much more power than any of the factory software options it was obvious which one we were interested in selling to customers.
Additional Photos and Media:
Stay tuned for video!
Comparison of various stock M4 software, M4 CS, M4 GTS, and the Epic flash software.
Our Mineral Grey M4 on the dyno.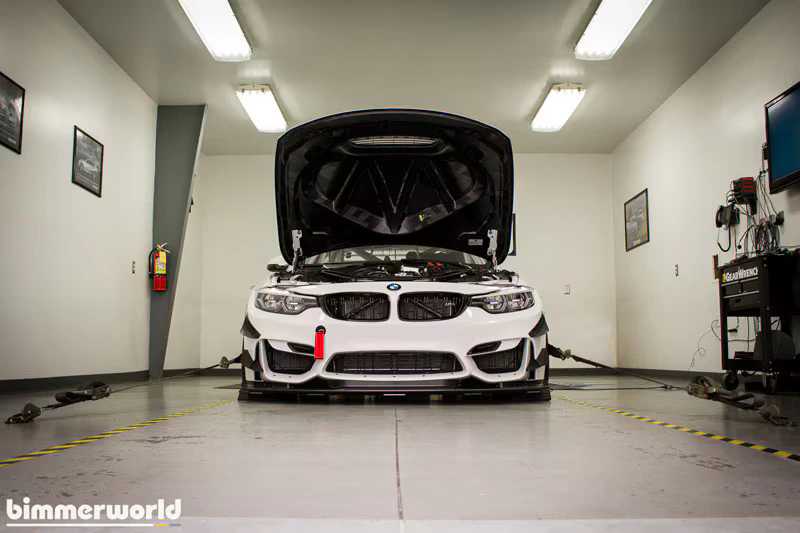 Our "body in white" M4 GT4 on the dyno.
---
TO BE CONTINUED....
There's more to come! Bookmark this page, or better yet,
subscribe to our Email Newsletter now
and we'll send you periodic updates on our BimmerWorld Project Car transformations.
Products Chosen for our Project F82 M4
Each of the below parts were installed and tested on our 2017 BMW M2 coupe (the F82 chasssis.) BimmerWorld believes strongly that we shouldn't offer products we wouldn't use on our own BMWs. The ability to test cars like our BimmerWorld Projects gives us first hand, real-world feedback on the products we design, carry and sell.