Garmin Catalyst Driving Performance Optimizer
No learning curve required to translate data into a plan of action.
Real-time delta of current session.
Audio coaching during the session.
1080p video for post-session analysis.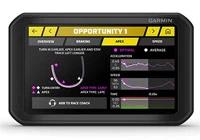 True Optimal Lap reveals areas of opportunity.
The BimmerWorld View - Of all the driving and data tools on the market this one has found its own niche. It's not a data logger or a grip detector. It's an AI driving coach providing instruction on how to incrementally improve your lap times. If you are an intermediate solo driver who wants real-time coaching that can be reviewed at any time, you're going to love this. Catalyst progresses along with you, constantly re-evaluating your speed and track position to identify opportunities for improvement. It's not going to replace an instructor who makes you a better driver through technique. But it will make you a faster driver by showing and telling you where there is potential for more speed.
Overview
Garmin Catalyst uses accelerometers, GPS, video, and the most sophisticated algorithms to evaluate your driving performance and then suggest ways to improve (just like a human coach). Through the display and audio, Catalyst provides a real-time assessment of performance using both gentle suggestions and positive reinforcement. No, it won't clap when you get it right but it does use real-world phrases and encouragement - such as "brake less", "apex later", or "keep pushing". Catalyst is perpetually evaluating and assessing your performance so it can optimize your lap and get you in line. After your session, review track maps showing opportunities for improvement as well as "heat map" displays of deceleration, acceleration, apexes, and speeds.
Display & Audio
Catalyst uses a 6.95" super wide view LCD IPS screen with vivid TFT colors. The LCD is a touchscreen, able to control functions without the need for a remote control, app, or a laptop. Coaching or playback audio is available via 3.5mm headphone jack or Bluetooth(TM) to your headset or car stereo. The on-screen layout is not programmable.
Camera
This is more than just a camera - the remote pod includes the accelerometers. It records up to 30fps in 1080p HD in a 140° field-of-view. It must be mounted facing forward, high up, and centered on your windshield. An on-screen guide will help you align it. The camera contains the accelerometers and very powerful processing software integrates the video into Catalyst's coaching and data. Playback is available on the Catalyst screen with speed and lap times already in sync.
Coaching
To unlock all of the coaching features and data you will need to select the Advanced setting. There is also a Basic setting that does not provide as much feedback. During your session, the real-time display is referencing current session data only. However, post-session review can include data from multiple sessions. Catalyst is looking for patterns in your driving to map out where you were fast and opportunities to try a different line, brake less, or carry more speed. The only voice currently available is a Siri-like female voice. Lap time differential is displayed as either red (slower), green (faster), or black (no change). From a student/novice perspective you may want to have an advanced driver/instructor set baselines in your car first. Then overlay that data with your own driving. This way Catalyst can see the full potential and make recommendations. It's important not to "chase" a lap time but to know what is capable and make incremental improvements to get there. Catalyst will never make a recommendation that hasn't been previously successful.
Analysis & Review
Catalyst compiles all of its data to form a True Optimal Lap. This is your best possible lap using all of the data you provided in your sessions. True Optimal Lap is determined not just by lap and sector times but by analyzing your best lines through corners and sectors and using the camera feed to identify track limits. Catalyst retains your track data over a 4-day period so you can pack in a full weekend of driving with progressive coaching and analysis. Post-session data is reviewed through the screen or through the Garmin Connect(TM) smartphone app, including video. Export of data or video files to a laptop is not currently supported nor is it needed. Everything you need is self-contained in the tablet. Catalyst works best when used as a standalone tool to review performance and make adjustments while at the track.
What's In The Box
+ Catalyst
+ 32GB microSD card
+ Remote cam with 3.5m cable
+ Windshield suction cup
+ Powered magnetic mount
+ Vehicle power cable
+ Documentation
Accessories Available
+ Storage case
+ 1" Ball screw-down mount
+ USB data cable (for updates)
+ 12V hardwire power cable
Notes
1. Upon receiving your Catalyst, plug in and update to the newest firmware.
2. Catalyst is not for autocross use. The AI and video feed do not identify cones and autocross courses don't typically have a shared start/finish line to complete a lap.
Videos
On-track with coaching (note: this car also has other data systems in use. Focus on the Catalyst and coaching.)
Post-session review
$999.99
Garmin Catalyst Driving Performance Optimizer
No learning curve required to translate data into a plan of action.