BimmerWorld Gift Certificate
The perfect gift for the BMW enthusiast in your life!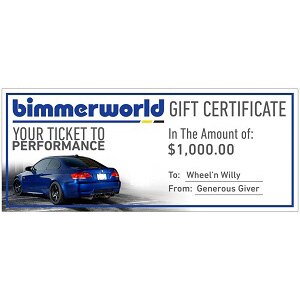 Having trouble finding the right gift for your friends and family? You can't go wrong with a BimmerWorld Gift Certificate!

Gift certificates are issued electronically. If you would like to save the surprise, email the certificate to yourself.

Please note that certificates are processed Monday through Friday, excluding holidays. Certificates purchased on Saturday or Sunday will be confirmed the next business day.

Image shown is not part of the confirmation message sent. An email message with a gift certificate code and your message will be sent.

Pro Tip! If you want to print the gift certificate to mail or hand-deliver to your recipient, be sure to put YOUR email in the "Recipient Email" field, that way it gets sent directly to you. You can also use this method to better control when the Certificate gets sent.