Charge-Air-Cooler + Heat Exchanger Package, CSF - F8X M3/M4
Special Package / Bundle Pricing
Black Friday! Price Includes $400 OFF thru 12/6!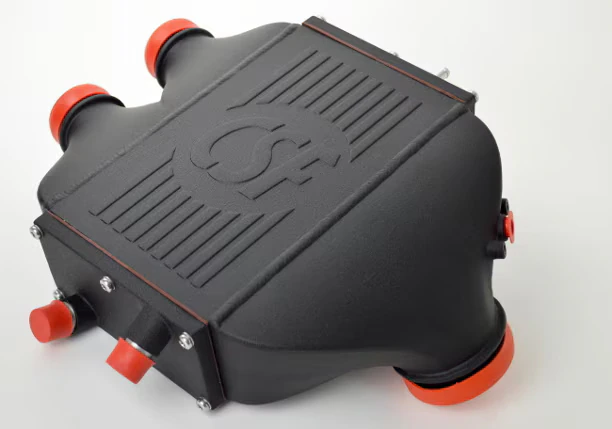 The CSF Top Mount Dual Pass Charge Air Cooler Features:
World's 1st cast end tank designed top mount charge-air-cooler for the BMW S55 engine in the BMW F8X M3/M4 (F80 M3, F82/F83 M4)
Multiple air dividers cast into both the hot/cold side end tanks for optimized air flow through the custom designed CSF liquid-to-air intercooler core (CFD analysis and testing completed to ensure optimal performance)
60% increase in core size compared to the OEM cooler.
Left/right, cross-flow, dual-pass core configuration with 2-stage water cooling for maximum efficiency and intake temperature reduction (vs. OEM single-pass vertical-flow design)
Designed with 3D scanning / rapid prototype technology to ensure precise fitment and maximum surface area utilization.
"Drop-in fit" design for an easy & quick plug-and-play installation. Complete with OEM style "Quick-Connect" water connections and sensor ports.
Finished with a professional "Crinkle Black" powder coat finish or unfinished.
Life-time warranty
This part replaces BMW part number 17 51 7 846 235.
The CSF "Game Over" high performance heat exchanger features:
2-row 42mm core (dual core) featuring CSF's exclusive B-tube technology
Core features an ultra-efficient fin with 6.5mm fin height and multi-louvered design for maximum surface area contact
Dual-pass flow structure allows the coolant to flow across the core of the radiator 2 times before exiting the radiator for the lowest outlet temperature possible (OEM style design)
CNC machined, OEM style "quick-connect" inlet/outlet connections
CNC machined, OEM style mounting brackets & fittings for superb fit and durability
Includes removable aluminum rock guard
All-aluminum race style drain plug
1 hour "mirror finish" hand polish
"Drop-in fit" requiring no modifications to install. Accepts all attaching OEM components including "quick-connect" hoses, mounting brackets, OEM X-brace, and all air ducting/shrouding
Life-time warranty
This part replaces BMW part number 17 11 2 284 608.
Notice of Emissions Non-Compliance.
The intake component is part of a vehicle's emissions equipment. Removing, disabling, or altering emissions equipment on a pollution-controlled road vehicle is illegal. Installing devices or software that trick, disable, or modify emissions controls and monitors on a pollution-controlled road vehicle is also illegal. Unless noted above, this product is not legal for sale or use in California on any pollution controlled motor vehicle.
BMW Fitments:3 Series
F80 (15-19) > M3
4 Series
F82 / F83 (2015+) > M4
$2,099.00
Charge-Air-Cooler + Heat Exchanger Package, CSF - F8X M3/M4
Special Package / Bundle Pricing

Black Friday! Price Includes $400 OFF thru 12/6!