MEYLE-HD Parts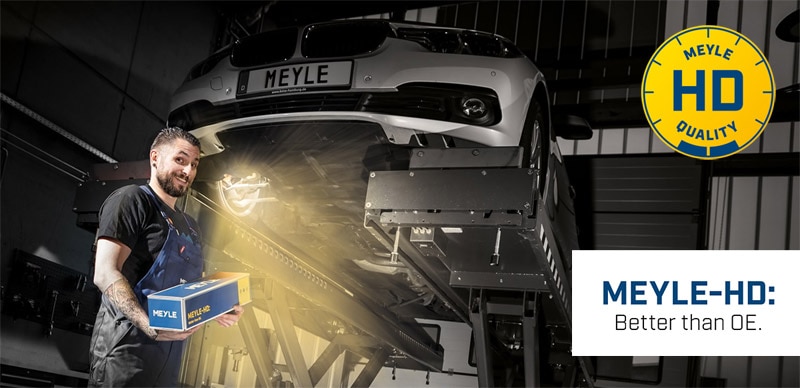 Technically Superior Parts for Your BMW
The reasoning behind BimmerWorld's greatly-expanded offerings of the MEYLE-HD product line
BimmerWorld is very excited to announce we have greatly expanded our catalog for MEYLE-HD products. We care about what we sell and have been so impressed with the design and performance of MEYLE-HD that we demanded more of it from our suppliers. Now available for your benefit are many more MEYLE-HD products at BimmerWorld.com!

Hundreds of New Items. THOUSANDS in stock!
No More Compromises
When you're shopping for OE-replacement parts, realize that your original factory "OEM" parts contain many compromises - cost vs quality, comfort vs performance, isolation vs feedback. MEYLE products start from a blank screen and their engineers design the product the way they want to, not just replicate the factory part (and its compromises). MEYLE-HD parts are technically superior with engineered solutions to common faults/flaws often found in factory parts. Premium materials, larger surface areas, denser materials, and more contribute to higher quality, longer life, and added performance.
The MEYLE Difference
The difference between stock and OEM parts and MEYLE-HD goes more than skin deep. It's how they are able to offer a 4 Year Warranty on these parts. Here are just a couple example parts, and how MEYLE has improved them:
These improvements transform both the performance and the longevity of the parts. We like the MEYLE-HD products so much that they often find their way into our purpose-built race cars. They're our recommendation for racers that are forced to use a direct-replacement part in the rules. When performance and strength absolutely matter, we turn to MEYLE-HD. Stay tuned for further updates as we build a SpecE46 330ci with a full complement of MEYLE and MEYLE-HD parts.

Put It All Together: Overhaul Kits
Pictured: Front Control Arm Overhaul for F48 X1 / F39 X2
One of the most-attractive aspects of MEYLE-HD components is they often have time- and money-saving Overhaul Kits. These are well thought out packages to help you get the right (and best) parts for the job, all in one box. View MEYLE-HD overhaul kits now!

Wide BMW Fitment / Coverage
MEYLE has produced their HD line of parts for both the classics and modern BMWs. BimmerWorld has made a big push to carry the full-line of MEYLE-HD so that you're covered, no matter what BMW you drive.

Here are some popular items, with direct links:
The above SE46 race car built by BimmerWorld features the full catalog of MEYLE-HD and MEYLE standard parts, including sensors, belts, pulleys, hoses, tie rods, power steering pump, rubber bushings, and brake discs.
Who's MEYLE? Why MEYLE-HD?

MEYLE, pronounced "MY-Leh", is a German parts manufacturer with ISO and TÜV approvals. They launched the HD line over ten years ago after seeing the need for technically-superior part designs in OEM applications. They didn't set out to make performance products but wanted to provide solutions for common shortcomings or flaws in factory designs. They recognized that while cars were becoming more complex, component quality was being sacrificed. Instead of replicating OE designs to offer at the lowest possible cost, they went in the opposite direction: Designing Better-Than-OE Products for a competitive price and with a better warranty. BimmerWorld was an early adopter of this approach, offering MEYLE-HD control arms from the very start.

German-Engineered to Be Better
When we dig into MEYLE's design and manufacturing improvements over stock, you may find yourself asking the question:
Why didn't BMW do it this way?? In many cases they did… It's called an M car. The non-M models are made to appeal to a mass-market audience with a wide spectrum of tastes and tolerances. M cars meet the need for a performance-tuned version of the standard car. MEYLE-HD achieves similar results for owners of non-M vehicles, as well as improving durability for M and non-M BMW models.

BimmerWorld-MEYLE Spec E46 330ci on track at VIR.
When do I switch to MEYLE-HD parts?

MEYLE-HD parts are straight-up replacements for the OE parts. Therefore, they can be used for any overhaul, replacement, project that calls for OE parts. They're all TÜV tested and approved, ensuring the quality and performance is equal-to or better than the OE part. You'll get greater longevity and added performance but without more harshness. We champion the MEYLE-HD brand mainly because of our positive experiences on our daily-drivers (as well as our weekend racers).

Although we endorse some parts for use on track, these aren't racing parts and won't leave you with a spine-crushing ride, vibrations, or unwanted side effects. They've just been proven to be superior under extreme conditions than standard OEM parts. We use them in our own street cars when we want more performance without drawbacks.
Video: MEYLE-HD - Simply Lasts Longer

Video: MEYLE-HD Control Arms for BMWs

Jump to Parts Categories:
Shop MEYLE-HD Parts for BMWs now: