OPTIMA D35 Style 1 Battery Mount Kit - All E30, E36, E70 X5
Exclusive BimmerWorld aluminum mount for OPTIMA D35 batteries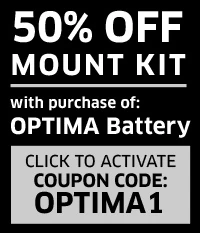 The OPTIMA D35 Style 1 Battery Mount Kit is the ideal solution for mounting an OPTIMA D35 REDTOP or YELLOWTOP battery in your BMW. This particular Mount Kit (Style 1) fits all E36 3 series (from about 1992 to 1998, and 1999 2-doors), all 2007-2013 X5 (E70 chassis) as well as all E30 Series (1984-1991.) We've seen some of the home-brew mounting options that have been created, so we decided to create a much more elegant, robust, and exact-fit solution.
OPTIMA D35 AGM batteries are ideal for BMWs for a multitude of reasons, and one of the more popular features is their lightweight design. Of course, with that reduced weight and technology comes reduced size, and that means that the factory battery mounts won't work. Many BMW owners will put something together that
sort of
works, but it won't necessarily be an exact fit, let alone the safety issues of having a battery not securely mounted. At BimmerWorld, we can do much better than that…
We've designed and manufactured high-quality, chassis-specific, billet aluminum battery mounts for precise fitment of OPTIMA D35 batteries in your BMW. Our goal was to provide an exact-fit solution that would not require any modifications to or replacement of wires, and to do so with factory-quality components and BimmerWorld's renowned attention to detail. Needless to say, that's exactly what we've done.
The OPTIMA D35 Style 1 Battery Mount Kit uses factory mounting points and fits all E36 3-Series and X70 X5 BMWs. Fits E30s with some drilling of the factory plastic mounting tray (51 71 1 953 889 or 51 71 1 922 158). See chart below for all fitment options.
Battery Mount
Chassis
Style 1
E36 ALL
E70 X5 ALL
E30 ALL
Style 2
E46 ALL
Style 3
E9X ALL
E83 X3
E85/E86 Z4 ALL
Made in USA
BMW Fitments:--3 Series
E36 (92-99) > 318i M42
E36 (92-99) > 318i M44
E36 (92-99) > 318ic M42
E36 (92-99) > 318ic M44
E36 (92-99) > 318is M42
E36 (92-99) > 318is M44
E36 (92-99) > 323ic
E36 (92-99) > 323is
E36 (92-99) > 325i
E36 (92-99) > 325ic
E36 (92-99) > 325is
E36 (92-99) > 328i
E36 (92-99) > 328ic
E36 (92-99) > 328is
E36 (92-99) > M3 (1995)
E36 (92-99) > M3 (96-99)
X Series
E70 X5 (07-13) > X5 3.0si
E70 X5 (07-13) > X5 4.8i
E70 X5 (07-13) > X5 M
E70 X5 (07-13) > X5 xDrive35d
E70 X5 (07-13) > X5 xDrive35i
E70 X5 (07-13) > X5 xDrive50i
$99.99
OPTIMA D35 Style 1 Battery Mount Kit - All E30, E36, E70 X5
Exclusive BimmerWorld aluminum mount for OPTIMA D35 batteries