Stainless Steel Brake Lines
Stainless Steel Brake Lines: Wear Items
Brake lines are often an overlooked but crucial component in your car's braking system. Many brake-related complaints can be traced back to worn out or damaged rubber brake lines. BimmerWorld offers a solution to old-technology rubber lines with our Stainless Steel & Teflon lines for BMW. These are available in axle sets or complete car sets for almost all BMW models.
A better understanding of stock brake line failures has led to more and more people changing over to stainless and Teflon lines. These are no longer considered a track-only or race upgrade. Stainless brake lines are an important safety and durability improvement even for street-driven BMWs. And they also happen to offer improved braking feel and response at the same time. As an integral part of your BMW's most important safety system, all brake lines should be inspected regularly and replaced
before
failure.
Replacing BMW stock rubber brake hoses with BimmerWorld Stainless Steel & Teflon Brake Lines offer advantages above and beyond the normal safety-related replacement. The biggest being strength and durability under stress and pressure while offering greater protection from debris in the open wheel well. A multi-layered line has many enhancements over standard rubber - the stainless weave is extremely tough and durable, offering greater protection for the fluid line underneath. The PTFE Teflon core line is much stronger than rubber and is resistant to chemicals and moisture.
BimmerWorld 6-Piece Stainless Brake Line Set
Under normal day-to-day driving conditions, stock brake hoses can last a fairly long time but not forever. Visual inspections will reveal external damage or stress. However, most brake line wear occurs on the inside. Moisture and heat will cause rubber hoses to expand internally, also known as swelling, which narrows the inside hose diameter and restricts fluid flow. The problem can also cause uneven brake balance if a brake line on one side of the car has significantly more hose swelling than the other side. Replacing brake lines should always be done in pairs or as complete sets. Because lines degrade gradually most drivers simply don't notice the pedal getting softer and softer. Manufacturers suggest that by five years of operation the rubber hose will show signs of degradation. The smaller diameter hose also means more pressure is required which can lead to leaks and failures in fittings or the line itself. Replacing old rubber brake lines is not just a performance upgrade but a safety one as well!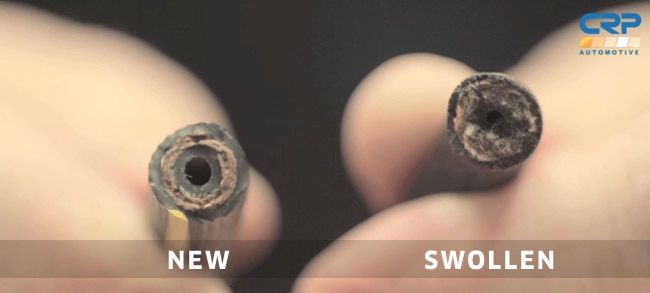 Example of a new line on the left and an old swollen line on the right.
Pedal feel is a great representation of brake responsiveness in most cases. A lack of feel means the brakes aren't reacting as quickly as you may like. Factor in any sort of high-performance driving and heat begins to degrade the rubber hoses faster. Any high-performance driving or minor track use can cut their lifespan by a significant margin. Even if the hoses are not cracked or showing visible defects, pedal feel can continue to degrade through the repetitive heat cycles the hoses endure.
Our BimmerWorld Stainless Steel Brake Lines feature a Teflon center core that won't expand, and that means a much more solid feeling brake pedal in your BMW. The core is also surrounded by braided stainless steel, so you get the flexibility and movement required for brake lines with increased durability and abrasion resistance. While the stainless steel braiding makes the lines more robust, each line is also fully sheathed with a PVC cover that adds another level of protection, preventing debris from working into the stainless braids. Lastly, the attachment sleeves incorporate a coated alloy for added strength and chemical resistance. If you've looked at some of the cheap BMW stainless lines on the market after a few months of use, the difference is plainly visible. All of our BimmerWorld V3 lines are tested to 4,500psi, and labeled with a DOT tag. The DOT stamp on each of our lines ensures that every line is made and tested to DOT standards, not just "made to DOT standards" or "DOT compliant" like many other brands.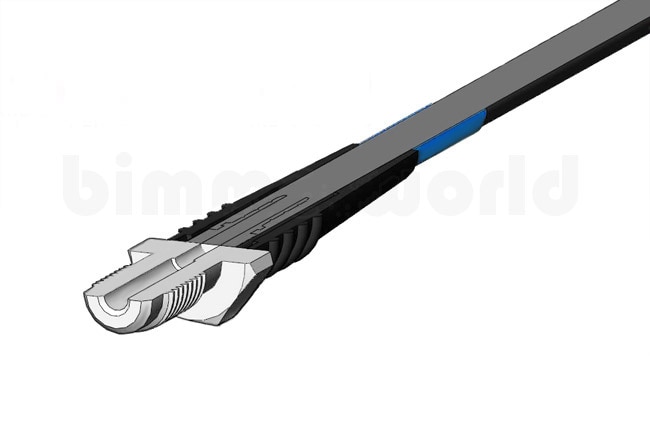 BimmerWorld brake line construction.
Insulated Brake Lines.
Because we never really stop evolving, we've also developed an Insulated version of our Stainless Steel Brake Lines. Our professional racing pays off in many ways, and one of those is that we continue to learn and push our development every season. Most failures in lines on heavily tracked or raced cars occur near the caliper, which makes a lot of sense. The Teflon liner gets baked by the brake rotors which can radiate heat in excess of 1,000° F. The protective heat shielding we've added to the caliper lines reflects heat, effectively bringing temps down enough to extend their life and help keep brake fluid temperatures under control.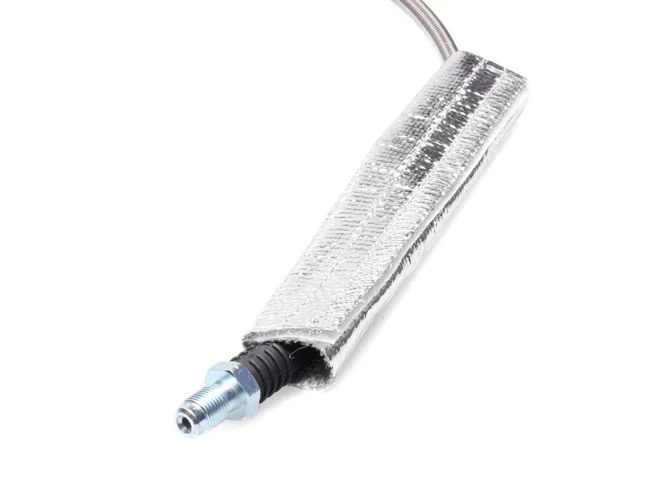 Optional heat-reflecting insulation.
Lifetime Brake Lines? No such thing.
So, with all the features to extend performance and durability, the BimmerWorld Stainless Steel Brake Line Kits will probably be the last set of brake lines you ever need to purchase, right? Well, not necessarily. Yes, you do get better feel and responsiveness, increased durability, and longer life, but that doesn't mean they are lifetime parts. This is still one of the most critical safety systems on your car regular inspections are required. Any brake lines that show damage or potential issues should be replaced immediately. We recommend replacing stainless lines as a preventative measure on race and track cars
every 100 hours
(typically 2-4 years).
Shop BimmerWorld Stainless Brake Lines: