E9X M3 Power Kit - Stage V
Power up with an intake, header, full exhaust, and ECU flash
The Header - Unlike older car models, BMW equipped the E9X M3 cars with good headers from the factory. It took absolutely every racing trick up our sleeves to gain power, but our new BimmerWorld Longtube headers produce proven results and are guaranteed to surpass expectations. Beyond putting out big power from stock engines (and even more from stroker and supercharged applications), our true equal-length headers change the shape of the exhaust sound, eliminating some of the muddiness of mismatched exhaust pulses for an intoxicating, crisp, and harmonious note.

As automotive technology advances and manufacturers focus on maximizing power output and fuel efficiency, modern cars have become more performance-optimized, making our job of producing upgraded products more difficult; however, with a bit of hard work and years of experience, we can always find power. Aside from forced induction, the exhaust system remains the best place to extract more power out of a modern BMW. Stock rear mufflers flow well, and you can significantly reduce weight and change the tone and volume of your exhaust by bolting on an aftermarket part, but it takes a fully-engineered system to maximize power output.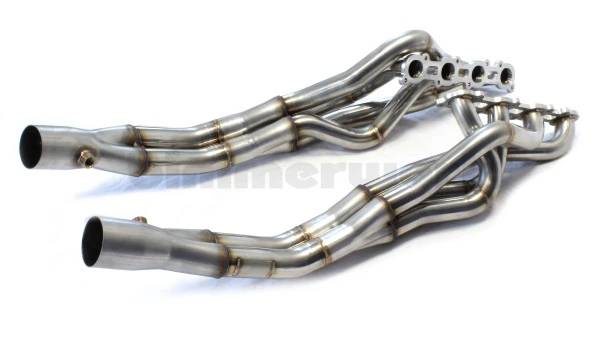 Our BimmerWorld E9X M3 Longtube Tri-Y Headers are the result of several years of design and iterative testing, making everything from minor dimensional adjustments to complete layout changes on order to produce the only truly effective product available:
Computer Modeling - The first step in creating a performance header is determining exactly what the specific engine needs, based not only on power output curves, but also piston size, stroke, valve size, cam profiles, etc. A header processes the exhaust gasses, and to maximize the efficiency, we have to model the natural exhaust flow and create a system of eight cylinders pulse-timed to work together with the combined result greater than the individual parts. The result of this modeling process is a theoretical set of design parameters that are often good enough to go on even a pro-level racecar, but for us, with the goal of wringing out every last horsepower, this was only the beginning.
Header Layout -The computer model suggested that the best gains would be achieved using a 4-to-1 design, in which four equal-length primaries merge into one collector. We built a set, dyno-tested engines and cars, and we were fairly happy with the result - good high-end horsepower on street cars and racecars, with both stock and stroker engines. Another set with a few slight revisions netted even greater results. However, late in the game our manufacturer suggested we revisit a Tri-Y design where primaries merge in pairs, then join in a final merge collector with the goal of producing more usable low-end torque. With many dollars and months invested, and the added expense of manufacturing a Tri-Y product, we were hesitant to change our path. With vast experience in restrictor-plate, small-bore racing, we decided to accept the change proposal - we're glad we did! Beyond its superior performance in the upper RPM range used on track and for racing, the low-end gains make this header system a fantastic street-car product as well, with big torque where you use it the most.
In-Car Packaging - Fitting larger equal-length headers is a challenge, especially when retaining all street car components. To fully optimize the tubing length/volume and layout, we used a coordinate measuring machine (CMM) to create a computer rendering of the engine bay. The result is an exactly equal-length header that fits properly and produces power.
Testing. Testing. (And More Testing) - After hours of engine and chassis dyno time, multiple sets of test parts, and seemingly endless phone conversations and email exchanges, we can confidently claim to have optimized this header system with little regard to time or expense. Call it obsessive, but the primary motivation of gaining an advantage over our competitors on the race track has resulted in the absolute best product available.
BimmerWorld E9X M3 Longtube Tri-Y Headers - Technical and Production Features
Tri-Y Design - Cylinders are paired properly to assist in exhaust scavenging to maximize low-end torque and the area under the curve with no loss in high-end horsepower.
Stepped Primary Tubes - Primaries step from 1-5/8" to 1-3/4". The smaller diameter boosts low-end torque while the step to the larger diameter in the primary frees the exhaust gasses for higher RPM flow.
Merge Collector - 2" secondary pipes flow into a merge collector with a 2.5" venturi and 3" tailring to promote scavenging.
Precision Production Fixture - Production fixtures are laser cut and exceedingly robust, with contact points every few inches to ensure the part you receive fits perfectly as designed.
Laser-Cut Flanges - Flanges are precision cut from thick 3/8" 304 stainless stock to retain shape, with voids for weight reduction.
Mandrel-Bent Tubing - One-piece tubes are solid-formed instead of pieced together for smoother exhaust gas flow and long-term durability.
Band-clamp attachment maximizes underbody clearance and makes exhaust removal and installation quick and easy.
Full 304 Stainless Steel construction for heat retention, durability, and corrosion resistance.
Full lifetime warranty against defects in materials and craftsmanship.
Fits all left-hand drive E9X M3 cars - does not fit RHD models.
Made in USA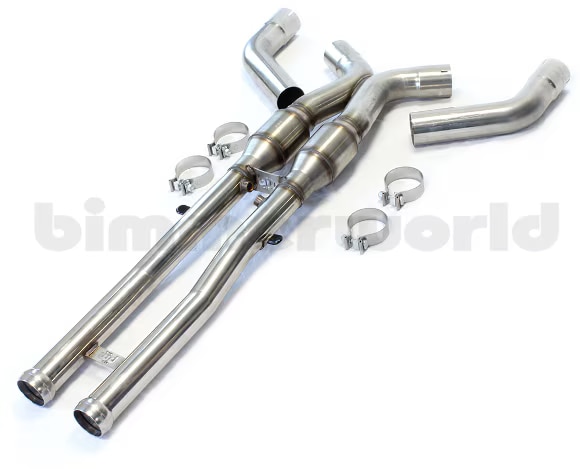 The X-Pipe - Upgrading to our BimmerWorld E9X M3 Longtube Tri-Y Headers? To complete the package and maximize performance of your system, you'll also need our X-Pipe. The 3" construction maximizes airflow in the hottest part of the system where it's most critical, and the X merge is engineered to optimize flow and scavenging. This catted option provides similar power gains to the straight-pipe option while keeping your car emissions-legal.

Our BimmerWorld E9X M3 X-Pipe is designed to perfectly complement our Longtube Tri-Y Headers - this piece does not bolt onto stock headers. We've duplicated the architecture and design that we developed on our E92 M3 race car to maximize both flow and scavenging effect. The X crossover component is the same as the piece we race with, positioned for optimized power output and tucked tight to the chassis to maximize ground clearance. The 3" inlet and main pipes keep the hottest exhaust gasses flowing while the step to 2.5" toward the back retains velocity as the exhaust cools.

If you aren't racing, or even if you are but are also environmentally conscious and want to follow the current global green trend, this catted version of our X-Pipe complies with EPA emissions standards so you can feel good and put out serious power. This is also a good option for those who just want to tone down the sound a little.
GREEN Cats - The Real Deal:
The GREEN cats used in our catted X-Pipe option are a true premium-quality 300-cell catalytic converter made in North America, meeting EPA federal emissions standards. In back-to-back dyno testing, our catted X-Pipe lost only 7 Hp versus the straight pipe - a fantastic result considering that removing stock catalytic converters on this car typically gains close to 25 Hp. This system, complete with Catted X-Pipe and Longtube Tri-Y Headers, makes more power than any header-back system we've tested - full race, catless, and resonator-free systems included!
300-cell metallic converters with platinum coating
49-State Legal - will not throw an emissions-based check engine light
High horsepower handling - supports applications up to 800 Hp
Handles exhaust temperatures up to 1,500° F
Ideal for street-legal supercharged M3s as well as naturally-aspirated engines
Plug-and-play oxygen sensor extensions available (additional cost)
BimmerWorld E9X M3 X-Pipe - Technical and Production Features
Optimized Architecture - X-pipe design, placement, and dimensions/sizing based on our race program development.
Precision Production Fixture - Production fixtures are laser-cut and exceedingly robust, with contact points every few inches to ensure the part you receive fits perfectly as designed.
Mandrel-Bent Tubing - Tubes are solid-formed instead of pieced together for smoother exhaust gas flow and long-term durability.
3" inlet connects directly to our Longtube Tri-Y Header system, 2.5" stepdown at the outlet fits stock or aftermarket rear axle-back muffler of your choice.
Band-clamp attachment maximizes underbody clearance and makes exhaust removal and installation quick and easy.
Full 304 Stainless Steel construction for heat retention, durability, and corrosion resistance.
Full lifetime warranty against defects in materials and craftsmanship. Catalytic converters carry a two-year warranty (excludes fuel melt from improper tuning).
The Exhaust - Producing a better exhaust note and dropping a chunk of weight from a factory exhaust is fairly easy, but modern stock parts typically come close to maximizing power output. That's never stopped us, though, so after significant development effort and testing, we are proud to announce that we have accomplished all three goals, making a measured 8 rear wheel Hp over even a typical aftermarket performance exhaust!

Our BimmerWorld E9X M3 Axle-Back Exhaust should be a required option for all E9X M3 enthusiast owners. The S65 V8 engine sounds amazing in race trim - the natural sound of a high-revving, short-stroke V8 is unmistakable. It's a shame that, in order to sell a street car to a broad market, that sound gets stifled by a chambered muffler that produces excessive backpressure and an overly muffled, synthetic-sounding tone. This type of muffler gets its name from the "chambers" that are formed by various perforated bulkheads designed to slow and control the sound waves of the exhaust flow, eliminating latent noise not absorbed by the factory resonators.

At the heart of the BimmerWorld E9X M3 Axle-Back Exhaust is an open-flow muffler with a unique perforated "S-pipe." Unlike the factory baffles that slam the door in the face of exiting exhaust gasses, the added weight and clutter of J-tubes used by some aftermarket systems, or straight-through racing mufflers which eliminate restrictions but are obnoxious for a street car, our S-pipe design disrupts soundwaves while still maintaining a smooth, flowing path for exhaust to exit unrestricted. Wrapped with stainless steel wool, the perforated S-pipe creates a smooth and refined tone under moderate throttle application and typical highway cruising without the exhaust drone found in other "performance" exhausts. Aside from just weight savings and the power increase, the biggest plus is that our exhaust opens up to an intoxicatingly aggressive and natural uncorked engine note when you drop the hammer.
BimmerWorld worked in tandem with our manufacturer's engineering team to put together the right all-stainless, mandrel-bent tube and muffler package to achieve a horsepower-boosting, sound-enhancing, lightweight package that truly belongs bolted to the back of BMW's most impressive high-revving V8 engine.
BimmerWorld E9X M3 Rear Muffler Section - Technical Features
S-pipe muffler design for open exhaust flow and increased power
Fits stock and aftermarket mid sections, including BimmerWorld Street and Race X-Pipes
Mandrel bent tubing for smooth flow and long-term durability
All 304 stainless steel construction, weighing just 41 lbs - a full 15 pounds less than stock!
Quad 3.5" chrome-plated twin-wall stainless tips that will hold up beautifully to exhaust-soot and cleaning over time
Full lifetime warranty against defects in materials and craftsmanship. Fits all E9X M3s.
Made in USA
The Intake consists of the Macht Schnell E9X M3 Stage 2 Intake Charge Kit. It's our favorite choice for E9X M cars because it's designed for power! By replacing the restrictive stock filter with a larger, more free-flowing performance filter, the engine is able to breathe more air - and that means more power.

The disruptive accordion-style stock intake elbow that connects the air box to the intake manifold is also replaced. This Macht Schnell replacement Intake Charge Pipe (ICP) has very smooth and glossy interior walls, and it's also 18% larger by volume, so you get considerably more air while eliminating the turbulence and resistance that the stock elbow produces. The ICP is constructed from super-strong polyethylene and has a textured exterior that perfectly matches the texture of the OEM intake manifold for a stock look. Macht Schnell's own Intake Charge Scoops are part of this cost-effective kit, and they help to create a matched combination that provides maximum air delivery to your S65 engine for noticeable power gains.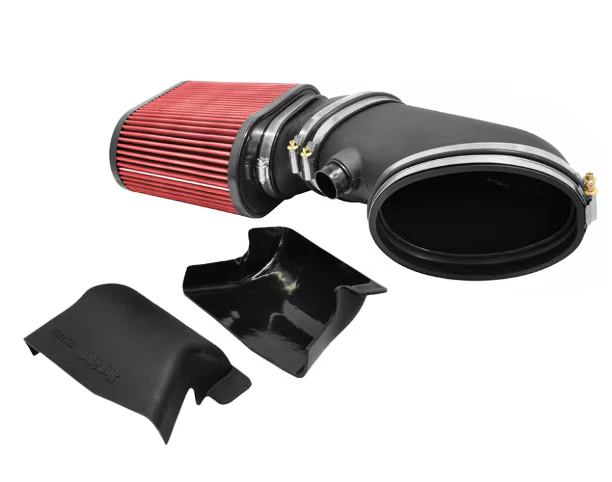 Heavy-duty rubber intake couplers and European worm style clamps are included to maintain a tight seal while still allowing engine movement. A 6061-T6 anodized aluminum inlet is embedded into the Macht Schnell Intake Charge Pipe to retain the stock PCV system.
Package Includes:
Macht Schnell cotton gauze high-performance air filter
Macht Schnell intake charge scoops
Macht Schnell intake charge pipe & filter adapter
Heavy duty rubber intake couplers
European style worm clamps
Macht Schnell Stage 2 Intake Charge Kit Benefits:
Aids in additional airflow to factory airbox, providing additional gains of 8-12hp!
Deeper and more aggressive intake sound
Washable/reusable cotton gauze high-performance air filter allows for more airflow
Polyethylene construction, nearly indestructible
Elegant textured exterior, smooth polished gloss interior for maximum air delivery with no restriction
Will not rust, or deteriorate over time
Sturdy sidewall construction ensures filter will last the life of the vehicle
Tight leak-proof seal with your factory air box
Deepest multi-layered pleats increase air flow and maintain critical protection levels, while still providing maximum air delivery
Maintains OEM filter's 99% debris collection efficiency to meet ISO 5011 standards
Maintains BMW engineered pressurized air box and OEM appearance
The Software consists of Epic's custom ECU tuning. Epic tunes are able to provide more usable horsepower and torque outputs by modifying BMW's dual variable cam timing (VANOS), drive by wire tables, and fuel and ignition maps. Better part-throttle drivability is also obtained.

The vehicle's top speed governor is removed. Custom software modifications for headers or other modifications are available. Rear O2 sensors monitoring, as well as other emission related items, can be disabled upon request for race cars and/or off-road use only vehicles.

This tune includes the Engine Calibration Interface (ECI) with purchase.
BMW Fitments:3 Series
E90 M3 Sedan (4 door) - 2008, 2009, 2010, 2011, 2012
E92 M3 Coupe (2 door) - 2008, 2009, 2010, 2011, 2012, 2013
E93 M3 Convertible - 2008, 2009, 2010, 2011, 2012, 2013